PM Modi Praises Medical Fraternity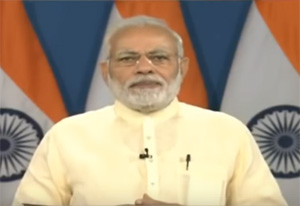 Good Fortune that Indian doctors are Service Oriented, Altruistic

New Delhi: After facing a severe backlash from many members of the medical fraternity following his remarks for doctors in his last public conference, Prime Minister Modi recently praised the doctors in India for their dedication as well as a strong sense of altruism towards patients. The Prime Minister was Interacting with beneficiaries of the 'Pradhan Mantri Bhartiya Janaushadhi Pariyojna (PMBJP)' and affordable cardiac stents and knee implants through video conference

" It is the sheer good fortune ( saubhagya) of our country, that most of the doctors in the country are philanthropic ( paropkari) and service-oriented ( sevadhari). They do not live for money. The smile on a patient's face is their life. You must have seen, many doctors are not even able to sleep for 24 hours- they work so hard- and this is not a game for money- they work with their hearts, hoping that their patient recovers well and goes home happy. This is their reward," he said

Adding that high cost of operations only make the doctors feel more helpless, he said

" Doctors feel sad when they see patients going through such expensive operations. But they are also limited by the means to help their patients. They help by reducing their fees, providing free samples as medications, help reduce other hospitals expenses, however, even despite that they feel helpless as they see the patient, their disease, their financial troubles and are not able to help as much as they want."

The Prime Minister went on to add how doctors informed him about this helplessness and with the recent decisions of the government to reduce prices and make healthcare more affordable are as happy as their patients.

[embed]https://www.youtube.com/watch?v=vfAdqOQOcXk[/embed]

Prime Minister Narendra Modi also highlighted access to medicines is a "big concern" for the poor as he expressed his government's commitment to decrease the financial burden and ensure affordable healthcare for every Indian.

He said the government is working to provide more beds, hospitals and doctors and has taken one step after the other so that the cost incurred by the poor on treatment comes down.

He said for providing good medical facilities to the poor and those residing in rural areas, more than 90 medical colleges have been opened and 15,000 MBBS seats increased.

Talking about his government's ambitious Ayushman Bharat programme, he said under this, around 10 crore families and 50 crore people will be given health insurance of Rs 5 lakh.

"The first phase of this yojna has been initiated and soon people across the country, will get benefited by it," he said.

As people living in small villages or towns find it difficult to go to a hospital or health centre that is very far away, the government has decided to open around 1.5 lakh health centres across the country under Ayushman Bharat. Apart from medicines, diagnostics facilities will also be available in them, he said.

"In the last four years, our government has taken one step after the other so that the cost incurred by the poor for treatment can come down. I can say with satisfaction that we have chosen the right direction, taken the right path, made the right policies and they are now reaching the grass root level...We have worked in mission mode," he said.

The Prime Minister also said access to medicines is a big concern for the poor and the government's constant endeavour is to "ensure affordable healthcare to every Indian". Modi said several people are benefitting from PMBJP, an initiative of the government to provide medicines at affordable prices.

PM Modi said that in every disease the poor is most concerned about medicines and under PM Jan Aushodi Pariyojna, the government has ensured that people get medicines at minimal rates. He said today more than 3,600 Jan Aushadhi Kendras have been opened in which more than 700 different types of generic medicines are available at the lowest rates. '

"We have tried to ensure that in these kendras medicines are available at 50-90 per cent less price be it be medicines for cancer, blood pressure or anything else," he said. He also noted that the government has reduced stent prices substantially, benefitting the poor and the middle class the most.

Although knee-related issues are common, the Prime Minister said its treatment was not common earlier as those who had the money could ensure its treatment. The cost incurred for knee transplant was anywhere around Rs 2.5 lakhs to Rs 3 lakhs earlier but now it is not the same, he said.

The cost incurred on knee transplants has witnessed a decrease of up to 70 percent. Knee transplants are now done in Rs 50,000-Rs 80,000, he said.

According to an estimate in India, every year 1-1.5 lakh knee surgeries are done and due to a decrease in their cost, there have been a savings of around Rs 1500 crore for the middle class, PM Modi said.

The Prime Minister said that similarly the cost of dialysis too was high and it was available in selected cities. Keeping this in mind, the Prime Minister Rashtriya Dialysis Yojna was started.

"Under it for 2.25 lakh patients, around 22 lakh sessions have already taken place. In 80 percent districts of the country, today this programme is going on. Presently in 400 Jan Swasth Kendra this is going on while 3200-3300 machines have been made available," he said.

The Prime Minister said his government aims to eradicate tuberculosis from India by 2025, five years ahead of a globally-set deadline.

"The world has decided that by 2030, TB will be eradicated. We in India decided why to wait for 2030. That is why we have made a programme to eradicate it five years ahead of the global deadline. That is we aim to eradicate TB by 2025," he said.

PM Modi pointed out that the government has also started a huge campaign for immunisation.

"Under Mission Indradhanush in four phases till now, in 528 districts across the country, 3.15 crore children and more than 80 lakh pregnant women have been immunised. Our target is that till 2020, all those children are immunised who have not been immunised or have been partially immunised so that they can be saved from 12 different diseases," he said.

Ahead of the International Yoga Day on June 21, the Prime Minister appealed to people to practice yoga and make it a part of their life.