Google, Yahoo, violating PC-PNDT Act: Supreme Court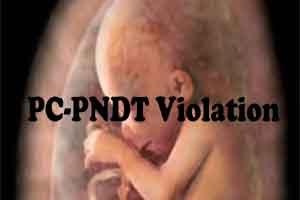 Online search giants, namely, Google, Yahoo, Microsoft, have recently drawn the ire of the Apex Court of the country, on account of hosting advertisements that promote sex determination and sex selective abortions.
Calling it a straight violation of the PC-PNDT Act, among other things, Supreme court has directed the Centre to remove these ads at the earliest with the help of technical experts. This comes in response to a plea filed pointing out towards hordes of advertisements that call for sex determination and sex- selective abortions being flooded over the internet.Such advertisements had been banned with the print media since PNDT Act came into force in 1994. However, somehow they found their way to the digital media. The plea has been filed by Sabu Mathew George, who is a member of the National Inspection and Monitoring Committee set up by the SC in 2003 to inspect and report the implementation of the Pre-Conception and Pre-Natal Diagnostic Techniques (Prohibition of Sex Selection) Act, 1994, reports livelaw.
" 
C
all your technical people. They (search engines) need to be controlled. They are violating the laws of India. They are flagrantly violating the law of the country and it seems they do not have any respect for the law of this country
, " 
Livelaw
 reports Justice Misra telling Solicitor General Ranjit Kumar.
The bench, hearing the matter has also in no uncertain terms pointed out that the respondent Google, Microsoft and Yahoo cannot put anything on their search engines that violate the law of the country.
"..Nothing shall be there on the search engines that will violate the law of this country.."
The hon'ble court has also instructed the government to hold a meeting of technical experts of the government with that of the internet search engines within a week's time.
"
They are patently violating the law and saying that that they cannot do anything to block such advertisements. It is not acceptable and the government must devise a mechanism to block advertisements
," the bench said. The court directed the Centre to file a report by July 25 on how to block such illegal advertisements and said it would pass order on the basis of the report, informs TOI.
"A memorandum shall be filed before this court indicating the steps to be taken so that nothing goes through the search engines that violates any legislation," it said.