Goverment lanuches Swachh Swasth Sarvatra Initiative to achieve Open Defecation Free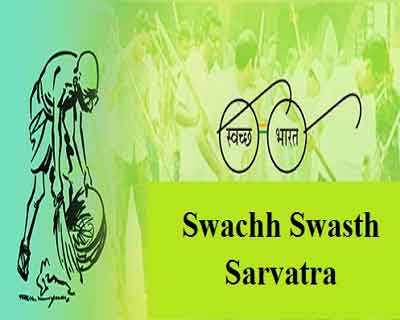 This is a much needed programme to achieve open defecation free India by 2019, should become people's movement said Prakash Javadekar.
Union Minister for Health & Family Welfare Shri J P Nadda and Union Minister of Human Resource Development Shri Prakash Javadekar launched 'Swachh Swasth Sarvatra' to commemorate Good Governance Day at a function. Swachh Swasth Sarvatra is a joint initiative of the Ministry of Health and Family Welfare and the Ministry of Drinking Water and Sanitation to achieve better health outcomes through improved sanitation and increased awareness and healthy lifestyles.
Addressing the participants, Shri Javadekar said that the Prime Minister has successfully amplified the need for clean India and today this is the most popular programme that resonates with citizens across India. Advancing from Swachh Bharat to Swastha Bharat is a natural step. Open Defecation Free (ODF) should not be limited to creation of infrastructure alone but it should also bring the positive change in the habits and mindset of people. Swachh Swastha Sarvatra is a much needed programme to achieve open defecation-free India by 2019. This should become people's movement and that is our endeavor, Shri Javadekar said. Terming children as change agents he stated, I believe that millions of students can become the change agents in driving ODF message in their homes, villages and districts.
Shri Javadekar further highlighted and appreciated the efforts made by individuals in far flung areas through their personal initiatives to make their area open defecation free and bring about necessary transformation at local level towards healthy and clean living.
Speaking at a function, Shri J P Nadda recalled the vision of the Prime Minister that governments and departments should not work in silos but work in close collaboration and cooperation with each other and develop a synergy between themselves. The initiatives we are undertaking today will have far reaching and deep impact on the health outcome of the citizens. we have launched the programme where we can be collaborative and a programme that is befitting to Good Governance Day,'' Shri Nadda added.
Elaborating on the Kayakalp awards, an initiative of the health Ministry in bringing about high standards of sanitation and hygiene in public health facilities, Shri Nadda said that the seriousness and focus of the Ministry towards cleanliness and sanitation can be gouged from the fact that in Kayakalp under the Central Government Hospitals category the first prize is of Rs. 5 crores, the second is of Rs. 3 crores and third is of Rs. 1 crore and this year prestigious institutes like Postgraduate Institute of Medical Education and Research (PGIMER), Chandigarh and All India Institutes of Medical Sciences (AIIMS), Delhi and North Eastern Indira Gandhi Regional Institute of Health and Medical Sciences (NEIGRIHMS), Shillong were the winners. Now there is a competition among various categories of the awards and this is leading to a change in habits and mindset at every level Shri Nadda stated.
Shri Nadda informed that the Health Ministry is working on the theme of Catch them Young and is working on effecting positive behavior change among the young to keep away from such habits that cause Non Communicable Diseases (NCDs). He added that through pictorial books- 'Swasth Bacche Swasth Bharat' prepared by Central Health Education Bureau (CHEB), health messages shall be brought out that will educate the children and youth about healthy living habits and activities. The Ministry has distributed these books on healthy living across schools in India, the Minister added.
To complement and leverage the efforts and achievements made so far, the MDWS and the MOHFW have launched a joint initiative- Swachh Swasth Sarvatra. The three key components of Swachh Swasth Sarvatra are:
Community Health Centres (CHCs) in ODF blocks supported to achieve Kayakalp certification
Gram Panchayat of Kayakalp Primary Health Centres (PHCs) prioritized to become ODF
Training in WASH (Water, Sanitation and Hygiene ) of CHC/PHC nominees
In blocks, where through efforts of the MDWS and local community, open defecation has been eliminated, the MOHFW will provide the Community Health Centre (CHC), a grant of Rs. 10 lakhs to ensure that the facility achieves the quality benchmarks for sanitation, hygiene and infection control with a minimum score of 70 under the Kayakalp assessment. Improved sanitation practices of the community are expected to complement the high level of sanitation and hygiene in the health care facility, and consequently reduce the disease burden related to water borne diseases.
The MDWS will undertake ODF activities in the Gram Panchayat of Kayakalp award winning PHCs. MDWS will also provide WASH training to a nominee of those CHCs and PHCs. This complementarity will enable stakeholders to work together for a joint vision and become accountable for common goals. Thus in the first phase, during 2017-18, the CHCs located in or catering to population in the 700 blocks that have been declared ODF and Gram Panchayats/Nagar Panchayats within which the Kayakalp PHCs (one each in 670 districts) are located will be covered in the initiative. The envisaged activities will culminate in a process of certification by the end of the financial year. Such CHCs and PHCs would be designated as Swachh Ratna CHC and Swachh Ratna PHC. The scheme may be progressively extended to additional blocks and public health facilities.