Government to address the special needs of the geriatric elderly.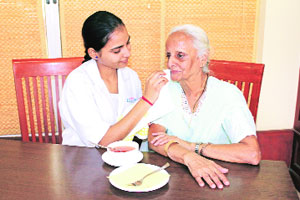 Keeping in view the recommendations made in the "National Policy on Older Persons" as well as the State's obligation under the "Maintenance and Welfare of Parents and Senior Citizens Act 2007", the Ministry of Health and Family Welfare had launched the "National Programme for the Health Care of Elderly" (NPHCE) during the year 2010-11 to address various health related problems of elderly people.
As per 60
th
 Round National Sample Survey (NSS) report, the proportion of ailing persons per 1000 aged person are 283 and 368 in rural and urban areas respectively. Survey report also say that proportion (per 1000) of aged persons who cannot move and are confined to bed or home is 77 and 84 in rural and urban areas respectively.
The major objectives of the NPHCE are establishment of Department of Geriatric in identified Medical Institutions as Regional Geriatric Centres for different regions of the country and to provide dedicated health facilities in District Hospitals, CHCs, PHCs and Sub-Centres levels through State Health Society.
Following facilities are being provided under the Programme:-


Geriatric OPD, 30 bedded Geriatric ward for in-patient care, etc at Regional Geriatric Centres.


Geriatric OPD and 10 bedded Geriatric Ward at District Hospitals.


Bi-weekly Geriatric Clinic at Community Health Centres (CHCs)


Weekly Geriatric Clinic at Primary Health Centre (PHCs).


Provision of Aids and Appliances at Sub-centres.


As on now, a total of 104 districts of 24 States/UTs and 8 Regional Geriatric Centres (RGCs) have been covered under the Programme.
Under CGHS, there is a provision for domiciliary Physiotherapy in respect of CGHS beneficiaries under the following conditions:-


Orthopaedic disorders- Post Joint Replacement surgery in acute phase upto two weeks post discharge.


Neurological conditions- for upto six weeks in the following conditions:


i)Post-stroke
ii)Traumatic brain injury.
iii)   Gullian-Barre Syndrome.
iv)Spinal Cord injury with significant disability/deformity.
v)Motor neuron disease.


Locomotor disability with a disability of over 80% who are totally dependent on care-giver based on the advice of tow government specialist, by certified care giver (Care giver means Rehabilitation Council of India certified personnel + Physiotherapist and occupational therapist (duly qualified diploma/degree holder).


The Health Minister, Shri J P Nadda stated this in a written reply in the Rajya Sabha here today.