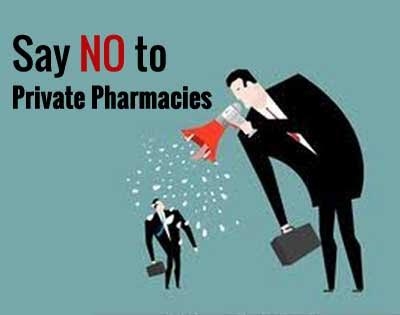 Bengaluru: Medical Practitioners associated with government hospitals in the state would not be allowed to channel prescriptions to private pharmacies, as the Karnataka Health Department has issued a stern circular to public hospitals in this regard. The circular clearly states that government doctors cannot prescribe medicines that are only available at private pharmacies.
The circular further calls for strict adherence. Those who fail to comply with the said order may not only see their salary being withheld but also face disciplinary action, which can even go the extent of dismissal from service.
Moreover, the Karnataka Health Department has also directed the doctors (both permanent and contractual) to submit self-attested affidavits to the department stating that they will not write prescriptions for medicines to be bought from private pharmacies or indulge in any other malpractices (such as referring the patient to a particular pharmacy) from now on.
Following the Health Department's order, the Chief Officers of hospitals and District Health Officers have been directed to handover the salary to doctors only after the submission of their affidavits.
The decision came after the Health Minister K.R. Ramesh Kumar, during a recent visited to Koratagere Taluk and found that patients here were regularly being asked to buy medicines from outside, due to the empty stocks of medicines at government pharmacies.
Explaining the reason of the circular, Principal Secretary (Health and Family Welfare) Shalini Rajneesh told the Hindu," Doctors are getting commission of 25 percent to 30 percent from private pharmacies for referring patients to them. That is why they refer patients to private pharmacies."
Doctors Dilemma 
Many medical practitioners have shown opposition to the move, on simple grounds that medicines are not adequately available at Government Pharmacies. Describing the decision of health department is 'incomprehensible' as, doctors pointed out that Government pharmacies have not adequate stocks of medicines and also that the ARS funds, that are available only in district and taluk hospitals, are not adequate for drug procurement.
Speaking over the shortage of resources at governments hospitals, a doctors told Hindu, "There is no ARS fund in Primary Health Centres (PHCs) as user fee is not collected from out-patients (PHCs have only out-patient service). The annual "untied" grants released for annual maintenance, corpus fund and ARS of each hospital is very meagre."
Explaining the solution to the doctors' dilemma, Shalini Rajneesh said, in absence of the medicines  in the hospital pharmacy, the available medicine in Jan Aushadi stores (generic drug outlets) on the hospital premises can be used. "Internal arrangements between the hospital and Jan Aushadi stores set up by the government in its hospitals has been made. This arrangement is not prescription-based but indent-based as the amount will be paid by the government to the store" she said
2 comment(s) on Govt Doctors Cannot Prescribe medicines available only at private pharmacies: Karanataka Health Dept