Govt intends to ban rapid diagnostic test kits for dengue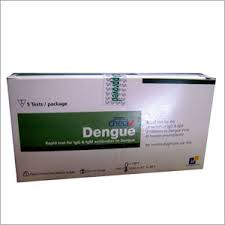 The rapid diagnostic test kits for dengue provides inaccurate results, as implied by the government
With the sudden splurge witnessed in the number of dengue cases reported in the capital, the government is now planning to take a close administrative review of the situation. As a result, the rapid diagnostic test kits used for the quick detection of dengue infection have come under the government lens- for it may not be providing accurate results, as reasoned out by an official.
"Talks are going on with experts of the Indian Council of Medical Research (ICMR). We may ban the sale of rapid diagnostic kits, which are believed not to be reliable," Director General of Health Services (DGHS) Jagdish Prasad told reporters.
Mr Prasad said the ministry only recommends ELISA-based kits, which are provided by the National Institute of Virology (NIV) at 499 sentinel surveillance hospitals and 15 apex referral laboratories to facilitate free diagnosis.
Going forward, the union health ministry has also decided to seek reports from individual hospitals in Delhi -- including the All India Institute of Medical Sciences, Ram Manohar Lohia Hospital and Safdarjung Hospital -- to ensure that there is no fudging of dengue numbers reported in the national capital, as reported by IANS.
As reported by the Medical Dialogues team
yesterday
, the National Capital continues to rage under the fever of dengue, with 1,259 cases confirmed till September 5 this year, and the fact that 2015 figures are the highest after 2010-in context of confirmed dengue cases, continues to raise the government concern.