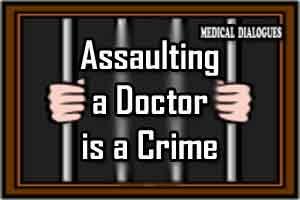 Violence against doctors is slowly becoming a routine at government hospitals across the country. So is probably the VIP culture, whereby prominent people allegedly use their positions of power to get special treatment at government hospitals, a fact which goes against the very purpose, for which these hospitals had been established.
Repeatedly, we see doctors approaching the doors of the judiciary asking for justice against such heinous acts of violence. Cases are filed and doctors engage in their fights to get justice against the lawbreakers.
In such a scenario, a recent judgement of a court has come providing relief to the medical profession on account of one such mishap .Setting precedence for others to follow, a Gujrat session's court has sentenced a BJP MP, Naran Kachhadiya to three years' imprisonment and fine of Rs 25000 for assaulting a doctor.
................................ Advertisement ................................
This verdict comes as a response to an event that took place in the year 2013 when an Amreli civil hospital doctor,Dr Bhimji Dabhi was beaten up in month of January 2013 when he allegedly refused to treat Ravi Joshi, 23, son of woman BJP leader Madhuben Joshi. It is reported that Dabhi asked the patient to wait as he was tending to another person. This led to an argument between the patient and the doctor, following which the patient called up Kachhadia who came to the hospital and beat up Dr Dabhi, apart from hurling casteist abuse. Dabhi belongs to a scheduled caste. The hospital staff went on a flash strike to protest against the assault.
................................ Advertisement ................................
Later, a police complaint was lodged against the parliamentarian and 15 others. The case was registered under the relevant provisions of the IPC as well as under the SC and ST (Prevention of Atrocities) Act
It is reported by PTI that the court acquitted the MP of the charge under the SC and ST (Prevention of Atrocities) Act, but awarded him three years' imprisonment for `voluntarily causing hurt to deter a public servant doing his duty', and `using force or violence through unlawful assembly'.
The court also convicted four others, including a local woman BJP leader, and imposed 3 years imprisonment as well fines of Rs.25,000 each on all five.
Kachhadia, a two-term MP from Amreli, might also face disqualification under The Representation of The People Act as per the July 2013 judgement of the Supreme Court.
The accused, however, has been given interim relief against arrest for a month and time till May 11 to move the high court against the verdict.Meanwhile, Kachhadiya, 58, told reporters after the court verdict: "I am innocent and will move the high court."
Meghna A Singhania is the founder and Editor-in-Chief at Medical Dialogues. An Economics graduate from Delhi University and a post graduate from London School of Economics and Political Science, her key research interest lies in health economics, and policy making in health and medical sector in the country.
She can be contacted at meghna@medicaldialogues.in.
Contact no. 011-43720751
0 comment(s) on Gujrat: MP sentenced to three years jail for assaulting a doctor