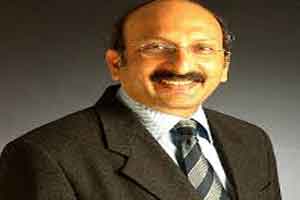 Haryana: Dr. Praveen Chandra, a leading cardiologist and chairman of interventional cardiology at Medanta Medicity, Gurgaon, has recently been conferred with the coveted Padma Shri award for his contribution in the medical field.
Dr Chandra is today recognised for his proficiency and impeccable application in lot of new devices and technologies. He is also a face recognised for his leadership in angioplasty in India, as evident by the fact that he is also a recipient of an award in the field of coronary angioplasty in India in 1998.
He has also served in the capacity of a director at the Cardiac Cath Lab & Acute MI Services at Max Healthcare earlier. He was also a Consultant Cardiologist at Escorts Heart Institute and Research Center, New Delhi.
His extensive experience also includes attendance of international meetings as a faculty member. In addition, he organised and was the director of the AMI course in Delhi in 2005 and 2006.
Dr Chandra has authored many articles, reviews and abstracts in national and international journals. He specializes in coronary angiography, coronary angioplasty and stenting, balloon valvuloplasty, carotid and renal angioplasty and stenting, peripheral angioplasty and acute MI angioplasty.
As reported by TOI, Dr Chandra is a fellow at the Endovascular Intervention Society of India and the Asia-Pacific Society of Interventional Cardiology.
0 comment(s) on Guragon: Dr Praveen Chandra conferred Padma Shri