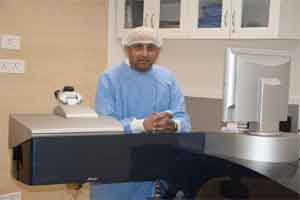 Gurgaon: Medanta Medicity, one of India's largest multi-super specialty institutes located in Gurgaon announced the launch of FemtoLASIK, a revolutionary technology and the most advanced LASIK treatment available in the world that enables bladeless refractive treatment.
Speaking on the launch, Dr. Naresh Trehan, Chairman and Founder, Medanta said, "At Medanta, it is our constant endeavour to bring the latest medical technologies in the world to Gurgaon and provide the best cure to every patient. The launch of FemtoLASIK showcases our commitment to strengthen our ophthalmology division at the Medicity and provide all encompassing medical treatment under one roof."
FemtoLASIK technology is the most advanced procedure aimed at improving patient's quality of life by reducing the dependence on glasses. This world renowned LASIK technology is the current state-of-the-art in refractive surgery. It works by altering the shape of the cornea to treat nearsightedness, farsightedness and astigmatism.
Dr. Sudipto Pakrasi, Chairman, Institute of Ophthalmology at Medanta – The Medicity said, "FemtoLASIK is bladeless and allows the creation of flaps with diameter and thickness of a wide range. It creates very precise, perfect and smooth corneal flaps to ensure accurate treatment with minimum risk. This is the safest LASIK technology available in the world today."
"With this launch, the Institute of Ophthalmology at Medanta is at par with other renowned medical institutions globally." Dr. Pakrasi added.
(Press Release)
0 comment(s) on Gurgaon: Medanta Medicity launches Robotics Lasik unit