Gurgaon: Physician caught taking Rs 30,000 for sex determination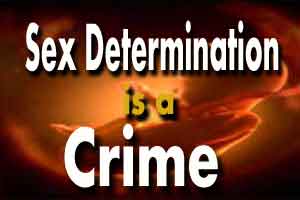 Gurgaon: A practicing general physician, Dr Anil Bansal, who ran a clinic in one of the posh residential societies of Gurgaon has been caught red-handed by the authorities performing sex determination on a woman
This came after the Haryana authorities received a tip-off about a woman seeking sex determination, who had approached a tout regarding the same two months ago. Since then, the authorities kept a watch on her till yesterday when she went to culminate the deal.
"The team of officials in Jhajjar received a after the woman approached a tout. The deal was planned two months ago. The team in Jhajjar reached Gurgaon and teams from both the districts nabbed the doctor," said Shyam Sunder of Red Cross Society, Gurgaon to TOI.
The doctors was caught red handed just as he finished performing the test and was allegedly taking Rs 30,000 for the work.
The doctor and the tout have been booked under the relevant provisions of the PC-PNDT Act and his machines at the clinic have also been sealed.
Officals have informed that action will also be taken against the woman who came to Dr Bansal for the test
TOI further reports that Dr Bansal experienced pain in his chest during the raid and was taken to a hospital.