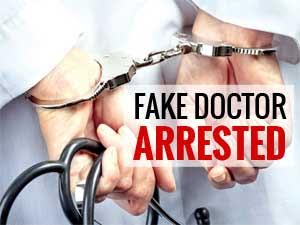 GURUGRAM: In yet another case of fake medical doctor running lose and treating patients, the Haryana police have now arrested a  35-year-old metric pass man, posing to be an MBBS doctor and treating people on the basis of his fake documents.
It is reported that Ravinder Kumar Mandal (accused), hailing from Gangapur area of Bihar's Madhepura district, was running a clinic in Madanpuri area of Gurugram on the basis of fake medical degree.The police report said that the accused earlier he used to work on call as an assistant in operation theatres (OT) of various hospitals.
The police came to know about the same when one Dr Ravinder Kumar, a city-based doctor with a government hospital, filed a complaint at New Colony police station and stated that a person was running a clinic and was using his name and degree.
Dr Ravinder Kumar told the police that he found his name on the internet when he was searching for a doctor, and suddenly he found another Ravinder Kumar Mandal, an MBBS doctor practicing.
During the interrogation, Mandla confessed that he was not an MBBS doctor, and used to work as an assistant in the operation theatre of a hospital. He managed to find a doctor having a name similar to his own Ravinder Kumar on the internet and used his name and registration number to set up a clinic. He also changed the photo on the documents and made a fake degree, reports TOI
After the complaint, the police officers investigated and arrested Mandla, the owner of K K R Pali Clinic, in Madanpuri.
"Fake rubber stamps of a medical college, fake papers and medical equipment were recovered from his clinic," the officer told IANS
The case was registered under the sections of 419 (cheating by personation) 420 (cheating), 467 (forgery for the purpose of cheating), 468 (forgery) and 471 (using a forged document as genuine) of IPC and relevant sections of the Indian Medical Council (IMA) Act.
0 comment(s) on OT Attendant turned Fake MBBS doctor arrested in Gurugram