Gut-Wrenching Abortion Video horrifies HC, Nursing Home Sealed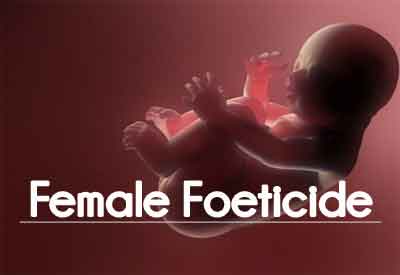 Video footage which showed quack crushing a girl child foetus with her bare hands.
Hyderabad: Recently, the Hyderabad High Court has Gayatri Nursing Home located at Singareni Colony in Saidabad for allegedly conducting illegal abortions and sex determination tests. The court made the decision watching a gut-wrenching video which showed a female fetus was brutally crushed by a nursing home employee.
The petition which unmasked the monstrosity was filed by concerned R Sandeep Yadav complaining of prenatal diagnosis and female foeticide taking place at Gayathri Nursing Home.
As per a recent News Minute report, Sandeep alleged that many of the patients who visited the nursing home belonged to the ST community and generally wanted a baby boy. The doctor at the nursing home would then urge couples to do a sex determination test and a scan at a lab in the city's Santosh Nagar area, before suggesting that they go ahead with an abortion.
The petitioner submitted a pen drive with the video footage which showed a woman crushing a female foetus with her bare hands. It has been alleged in the petition that she is unqualified to perform surgical procedures. The quack has been identified as Sarwari Unrisa who works at the nursing home.
The Public Interest Litigation (PIL) was presented before the state high court with a Bench of acting Chief Justice Ramesh Ranganathan and Justice K Vijaya Lakshmi who condemned the cops for not any taking action against the nursing home.
Last week, the additional police commissioner of Hyderabad was ordered by the bench to thoroughly investigate the matter and file an action taken report.
TOI reports that whereas the report didn't show any action taken against Unrisa and the nursing home, on the contrary, the police arrested the petitioner basing on a complaint by the hospital. Furiously, the Chief Justice said, "Something is wrong, they will arrest those who bring things to our notice."
The bench slammed the inaction of the police and observed, "You did not hesitate to book a case against the petitioner when the management lodged the complaint, but now you are dodging the action against the management despite the video footage furnished by the petitioner which shows the crushing of foetus."
The court directed the commissioner of police, Hyderabad, to entrust the case to a competent officer to exclusively probe and file an action taken report within one week.
Speaking to The News Minute, Sandeep said, "I'm glad that the court has taken up the issue seriously. I have trust in the judicial system and I'm sure the guilty will be punished. The police must act swiftly."
Based on the court's order, the police had earlier booked a case under the Medical sub-section 5 of the Termination of Pregnancy Act, 1971, including under sub-section (2) (Termination of pregnancy by a person who is not a registered medical practitioner).