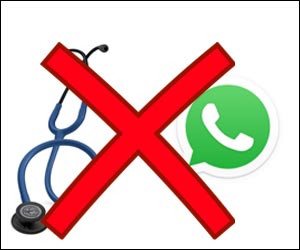 Coimbatore: A gynaecologist and a private hospital, recently faced the heat of the public after the family of a patient staged a protest outside the hospital premises, accusing the gynaecologist of not being present personally to treat a labour patient, instead of guiding the treatment via WhatsApp as the nursing staff of the hospital provided the delivery treatment. The family has filed a complaint with the local police and is also planning to approach the state medical council
The gynaecologist, on the other hand, rubbished the accusations, stating that it was she who performed the delivery and not the nursing staff
The case concerned a 26-year-old patient, who was admitted to a newly constructed private hospital in the area on 30th May,2019. The family of the patient alleged that the doctor did not see the patient, rather instructed the nurses the relevant treatment based on WhatsApp pictures
The patient's advocate K Kannan alleged to the TOI, "Nithya was admitted to the hospital on May 31. For the next two days, she was taken care of only by the nurses, who would WhatsApp the doctor pictures of fetus' position based on which she would prescribe treatment. Till the last minute, the doctor did not see the patient."
The family further alleged that when the patient did not develop labour pain even two days after her admission the doctor asked the nurses to break water (amniotic fluid). The patient's condition soon deteriorated
"With no doctor around when the woman developed labour in the early hours of June 3, the nursing staff performed the delivery, guided by Dr. Magudapathi through WhatsApp. There was heavy blood and placenta loss. The doctor came later and the mother and the child had to be shifted to Kovai Medical Center and Hospital (KMCH) due to child developing breathlessness," Mr. Kannan alleged to the Hindu.
However, denying all allegations made by the family of the patient, the gynaecologist stated that she was present during the delivery
"The woman had a placental abruption (placenta detaching from the uterus) which led to dropping of the baby's heart rate. The delivery was performed as the abruption could have worsened the condition. A paediatrician present at the time of delivery resuscitated the newborn and immediately shifted it to KMCH where cooling therapy facility is available," she told the Hindu.
0 comment(s) on Gynaecologist under scanner for allegedly providing Delivery Treatment via Whatsapp