Harassment of Junior Doctors by Seniors: Special Task Force Formed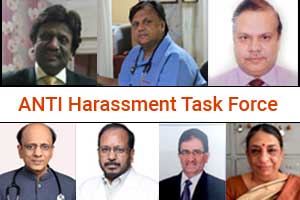 New Delhi: To address the growing complaints of harassment at workplace and the issues of exploitation of young junior doctors by their seniors at work, Delhi Medical Association has announced the formation of a special Anti-Harassment task force to look into the grievances of young professionals.
"Delhi Medical Association is deeply concerned about the ongoing incidences of exploitation and harassment to young doctors during their studies at various plateaus of their career. The repeated incidence of suicides by the PhD students the residents, the postgraduates and the under-graduates students has shaken the confidence of the profession at large that something more has to be done to create a better and respectful relationship between teacher and taught," informed Dr Ashwani Goyal, President Delhi Medical Association
The task force was formed amid various recent incident of harassments including one where a 36-year-old PhD student at AIIMS allegedly attempted suicide, accusing his supervisor of mental harassment, abuse and delay in his fellowship. The recent incidence of the molestation of an intern and by a senior doctor and repeated allegations that there is a repeated harassment of the junior doctor by the senior doctor has to be investigated and supported. Keeping in mind the interest /safety of the dignity of the students, Delhi Medical Association has formed an 8 member special task force involving Past presidents and other senior leaders of the association to look into this matter.
"This anti-harassment task force will look into all the complaints by the students of any type of harassment they are facing during their studies /career and every necessary step shall be taken to make their studies /career a comfortable journey to become a better doctor," said Dr Prem Aggarwal, Chairman of the Task Force.
"This task force shall be available 24x7 and shall take all the complaints from the various sessions of the young doctors and shall try to create an environment of faith and belief between the teacher and taught," Dr Aggarwal added.
In matters of grievous offences, the task force will also approach state medical council seeking its involvement. The chairman of Delhi Medical Council and Registrar of the council shall be invited members of the task force to help taking action against the offences which shall be amounting to be unethical and criminal in nature.
The committee is as follows –


Dr Ashwani Goyal -President


Dr Prem Aggarwal - Chairman


Dr K.K. Aggarwal  - Member


Dr Harish Gupta  - Member


Dr Rakesh Gupta  - Member


Dr Naresh Chawla - Member


Dr Nomeeta Gupta- Member


Dr Deepmala Lalachandani- Member