Punjab: 4 arrested under PC-PNDT Act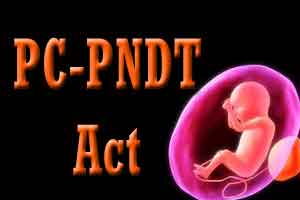 Baranal : Four people, including one class 8 dropout caretaker of a closed ultrasound centre, were caught red handed by the Haryana officials and arrested for violating the regulations of the PC-PNDT Act.

The arrest came in relation to an ultrasound centre that was officially closed in the year 2010, when its owners moved abroad. The caretaker of the center, now identified as Gurmail Kaur was caught red handed performing ultrasound on a decoy patient during a sting operation done on Wednesday. The others arrested have now been identified as  Jagtar Singh and Gurpreet Kaur of Moga; and Ram Dass of Dabwali in Haryana.

The arrest came after a team of Haryana Police and doctors sent a pregnant decoy patient to the centre. Gurmail, the 8th pass caretaker, who had apparently broken the seal of the machine performed the ultrasound and correctly determined the sex of the foetus. As soon as the test was completed the team reached there and arrested the accused. The team also recovered the marked currency notes of Rs 30,000 that were paid for the test.

Sirsa deputy civil surgeon Dr Viresh Bhushan, who was part of the raiding team, told HT, "Ram Dass of Dabwali was the tout. The money paid by the patient was recovered in parts from the accused—Rs 2,000 from Gurmail; Rs 6,000 from Jagtar; Rs 12,000 from Gurpreet and Rs 10,000 from Ram Dass."

Gurmail, however, feigned ignorance and said she did not know what she was doing. "I took Rs 2,000 for the work. I only pressed a few buttons without realising the consequences." Ram Dass said it was for the first time that I did such a thing and his nephew Jagtar said he was there on Ram Dass' insistence and knew nothing.





The doctors, part of the raid, however, were not convinced of the explanations. "Ram Dass is out on bail in a similar case registered against him," said Dr Bhushan. Dr Rajesh Kumar, another doctor of the team, said, "Gurmail did determine the sex of the foetus. It is a matter of investigation whether she knew how to operate the machine."

Baranal civil surgeon Dr Kaushal Singh Saini told HT , "The machine was sealed in 2010 at the request of the doctor. We check the seals bi-annually. Prima facie, it seems that Gurmail misled customers and didn't actually know how to conduct the test."

"A woman, Manpreet Kaur, was sitting there. She claimed herself to be Gurmail niece. However, we have found that she was a registered nurse in Punjab. We have asked the police department to check her antecedents," said Dr Saini.

"One more pregnant woman with her two companions was also sitting there. But no case can be made out against them," said Dr Saini. Police is now checking the background of these patients.