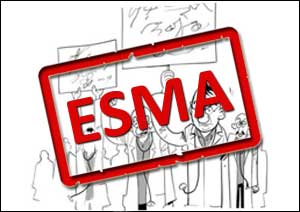 Chandigarh: Citing "public interest", the Haryana government today said it will prohibit any strike by doctors working in the health department for a period of six months with effect from, hence invoking the provisions of the Haryana Essential Services Maintenance Act, 1974.
The move came after the announcement by the medical practitioners under the banner of the Haryana Civil Medical Services Association (HCMSA) that they would go on strike from September 11, 2017. The doctors had announced that they would observe a pen down strike for two hours on Monday, giving an ultimatum to the state government to meet their demands in the next 24 hours. If demands were not being met by the government by Wednesday, they would observe an OPD Shutdown, and Thursday onwards cease all medical services including emergency.
However, right before the pen-down strike, the state government came out with the notification for doctors
"In exercise of powers conferred by sub-section (1) of Section 4-A of the Haryana Essential Services Maintenance Act, 1974 (Act 40 of 1974), the Governor of Haryana hereby prohibits any strike in the aforesaid department ( medical) for a period of six months from the date of publication of this order in the official gazette."
 Doctors Demands
 Around 1,900 doctors in the state, all members of Haryana Civil Medical Services Association have been demanding the state to issue a notification to enable the doctors in rural areas to avail themselves of its benefit under the quota in admission to PG courses last year. This includes specifying what are rural and remote areas, as per the SC direction. However, with the government not issuing the said notification, and the examination of this year, inching closer, doctors demanded the government to take action or they will go on strike
"The entrance test for next year's admissions is due in next couple of months and still the government was yet to issue the notification. Serving doctors are feeling frustrated and demoralized due to this. If corrective steps are not taken, many of the serving doctors will leave the job, leading to the collapse of the health system in coming years in Haryana," Dr MP Singh, vice president, Haryana Civil Medical Services Association told TOI.
However, the demands of the doctors have been only met with the invocation of ESMA, Health Minister Anil Vij on Sunday said the demands of the doctors were not justified. Speaking to Tribune, Vij said, "The doctors will not be allowed to observe any strike and their demands are not justified. They will not be allowed to paralyze essential services."
1 comment(s) on Haryana Doctors Announce Strike, Govt responds by invoking ESMA