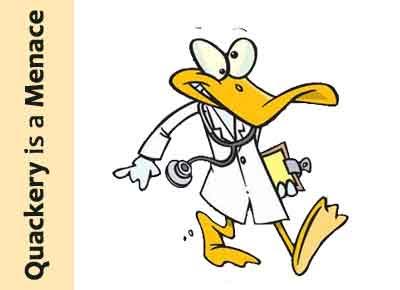 Coming down harsh on the state government, for showing laxity in taking actions against quackery, the Punjab and Haryana High Court is reported to have summoned the Director General of Health Services for rendering assistance.
The court in the year 2013, had passed an order in response to the petition filed by Association of Practising Pathologists. The association had approached the court, pleading to close down all unauthorised and illegal pathology laboratories run by laboratory technicians and other unqualified persons and institutions instead of qualified registered medical practitioners possessing requisite qualifications of MD (pathology).
Responding to the plea, the court while disposing the matter in 2014, asked the government to frame a proper policy in the matter, "We will expect the state of Haryana to take expeditious steps to both frame a policy and thereafter take action under the policy."
................................ Advertisement ................................
With no response in sight, the association filed a contempt petition with the court, which recently came up for hearing.
Justice Gupta is reported to have pulled up the government,questioning the reluctance on Haryana's part to implement in letter and spirit an order passed over two years back against quackery in the state, reports Tribune . The court has further warned that action under the Contempt of Courts Act will come up in the case, if there is further failure to implement the directions.
................................ Advertisement ................................
Justice Gupta observed, "In case the practice of quackery is prevalent in the state of Haryana, it can be dangerous to the life and liberty of citizens."
While the counsel for the state is reported to have submitted that needful could be done by the government only in a phased manner, the court re-iterated that the writ court had directed expeditious steps by an existing committee to frame a policy and to take action as per the same, adding that Prima facie, it appeared that no tangible steps had been taken till now.
"It is inexplicable why despite this there is reluctance on the part of the state to implement the order in letter and spirit," Jutice Gupta asserted.
Granting the last opportunity to the counsel for seeking instructions from the authorities concerned before apprising the court, Justice Gupta asserted, "In case of failure of the state to implement the order passed by the writ court, this court shall have no option but to proceed further under the Contempt of Courts Act."
Meghna A Singhania is the founder and Editor-in-Chief at Medical Dialogues. An Economics graduate from Delhi University and a post graduate from London School of Economics and Political Science, her key research interest lies in health economics, and policy making in health and medical sector in the country.
She can be contacted at meghna@medicaldialogues.in.
Contact no. 011-43720751
................................ Advertisement ................................
0 comment(s) on Haryana: Court slams government for inaction on quackery