Health ministry cites fund crunch, tells AIIMS to prioritise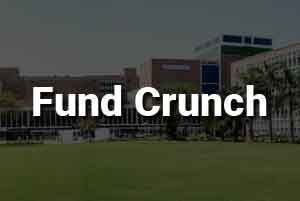 New Delhi: Citing lack of funds, the Union Health Ministry has asked the AIIMS here to review its projects, both sanctioned and proposed, estimated to cost over Rs 12,000 crore, and prioritise those based on its current needs.
According to a senior government official, during the tenure of the previous director of the institute, several projects were conceptualised and sanctioned in a piecemeal manner without assessing if those are financially viable.
The issue came up in a meeting held earlier this month between officials of the health ministry and the AIIMS.
"It is not only just about building the infrastructure. Funds are required for equipment, staff and recurring costs. Thus, AIIMS has been asked to prioritise the projects based on its current need and sustainability," the official said.
"The issue of prioritising projects would be taken up for discussion in the Governing Body meeting scheduled on October 10. The Standing Finance Committee will review the development work on October 9," he said.
Nine projects at AIIMS, including building a surgical block, Mother and Child Block, OPD block, doctors hostel and Geriatric ward are at various stages of completion.
"Due to lack of funds, a lot of work in these projects are incomplete," the official said.
Besides, five projects, including the Trauma Centre Expansion and Emergency-cum-diagnostic Block to cost Rs 8,885 crore, are at advanced stages of being sanctioned. A few more projects are in the pipeline.
Another official said the AIIMS had asked for more than Rs 2,000 crore from the government in this financial year for various development works, but received Rs 576 crore till now.
Following the meeting with the health ministry, the AIIMS on September 12, constituted an 18-member committee to review the projects to be executed at institutes Masjid Moth campus and Trauma centre.
"Keeping in mind the needs of the AIIMS, a relook committee has been formed to prioritise various projects on the basis of the needs of the departments and the institute," AIIMS Director, Dr Randeep Guleria said.
"For example, AIIMS is witnessing a huge influx of patients in the emergency Block with many of them having to wait in the corridors. Therefore, development of the Emergency Block will be one of our priorities," he told PTI.