Health ministry examining CBI report on AIIMS purchase irregularities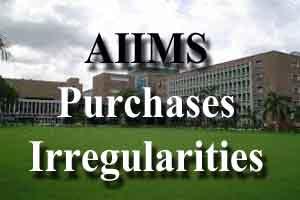 The health ministry was examining the CBI report on irregularities in purchase of equipment at AIIMS and will take appropriate action after going through it completely, an official said.

The CBI has submitted a verification report to the ministry's vigilance wing naming the AIIMS director and a senior doctor over irregularities in purchase of disinfectants and fogging solutions by the trauma centre of the hospital.

"We have received the verification report and soon we will do whatever needs to be done. Appropriate action will be taken if we find anything wrong," a senior officer at the health ministry told IANS.

The CBI report comes following a complaint by the former chief vigilance officer (CVO) of the medical institute over irregularities in purchase of medical supplies.

Former AIIMS CVO Sanjiv Chaturvedi had alleged criminal misconduct by assistant store officer T.R Mahajan at the trauma centre in purchase of fogging solution and disinfectants from companies whose sole distributor was a firm owned by the son and daughter-in-law of the store officer.

However, a statement from AIIMS still maintains that there were no irregularities in the procurement of the articles.

"AIIMS would like to place on record that no irregularity has been made out in the procurement of disinfectants and fogging solutions by JPN Trauma Centre," said a statement from the spokesperson of the institution.

"In this regard, it is clarified that AIIMS had placed the store officer T.R. Mahajan under suspension and a chargesheet for major penalties was issued to the said official.

"The inquiry officer has concluded that none of the charges against T.R. Mahajan stand proved," it said.