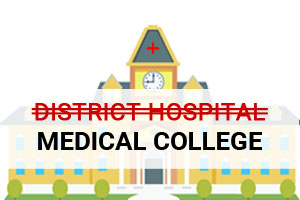 New Delhi: Following up on the announcement of the Finance Minister of ensuring one medical college in every three parliamentary constituencies, the Ministry of Health has now identified 58 districts in 20 states/UTs which will be targeted for conversion of district hospitals to medical colleges. The announcement to this effect was made by MOS ( Health) Sh Ashwini Kumar Choubey in Rajya Sabha, yesterday
The Ministry of Health & Family Welfare is administering a Centrally Sponsored Scheme to establish new medical colleges attached with existing District/Referral Hospitals in underserved areas of the country. Under Phase – I of the Scheme, 58 districts in 20 States/UT have been selected. Out of these, 56 colleges have been approved and a sum of Rs.5188.42 crore has been released to the States/UT. 8 colleges under Phase – I are functional.
The Phase – II of the Scheme for the establishment of 24 new medical colleges has been approved by Cabinet Committee on Economic Affairs in its meeting held on 7th February, 2018. The objective of the Phase – II of the scheme is for ensuring the availability of one medical college in every 3 Parliamentary Constituencies and one Government medical college in each State.
Three districts in Bihar namely Purnia, Saran (Chhapara) and Samastipur were identified under Phase – I of the above scheme to establish new medical colleges. The medical colleges at Purina, Saran (Chhapara) have been approved. However, DPR for Samastipur was not approved as the existing District Hospital land area does not fulfil the minimum land area requirement prescribed under IMC Act, 1956 for the establishment of a new medical college.
List of identified States/districts under the scheme for Establishment of new Medical Colleges attached with existing district/referral hospitals

S.N.
State/UT
No. of District/Referral Hospitals
Districts
1
A & N Islands
1
Port Blair
2
Arunachal Pradesh
1
Naharlagun
3
Assam
4
Diphu
Dhubri
Nagaon
North Lakhimpur
4
Bihar
3
Purnia
Samastipur
Saran(Chhapara)
5
Chhattisgarh
2
Rajnandgaon
Sarguja (Ambikapur)
6
Haryana
1
Bhiwani
7
Himachal Pradesh
3
Chamba
Hamirpur
Nahan (Sirmour)
8
Jharkhand
3
Dumka
Hazaribagh
Palamu
9
Jammu & Kashmir
5
Anantnag
Baramulla
Doda
Kathua
Rajouri
10
Madhya Pradesh
7
Chhindwara
Datia
Khandwa
Ratlam
Shivpuri
Shahdol
Vidisha
11
Maharashtra
1
Gondia
12
Meghalaya
1
West Garo Hills, Tura
13
Mizoram
1
Falkawn
14
Nagaland
1
Naga Hospital
15
Odisha
5
Balasore
Baripada (Mayurbhanj)
Bolangir
Koraput
Puri
16
Punjab
1
SAS Nagar
17
Rajasthan
7
Sikar
Barmer
Bharatpur
Bhilwara
Churu
Dungarpur
Pali
18
West Bengal
5
Birbhum (Rampur Hat)
Cooch behar
Diamond harbour, South 24 Paraganas
Purulia
Raiganj, North Dinajpur
19
Uttar Pradesh
5
Faizabad
Bahraich
Basti
Firozabad
Shahjahanpur
20
Uttarakhand
1
Almora
Total
58
However, In Chhattisgarh State, two Districts namely, Sarguja and Rajnandgaon have been approved for establishing new medical colleges by upgradation of existing district hospital which are already operational. Furthermore, Public health being a State subject, the responsibility to operationalize New hospitals and maternity centres too lies in the jurisdiction of the respective State Government, added the minister.
16 comment(s) on Health Ministry enumerates 58 Districts for converting Hospitals to Medical Colleges, details