Health ministry launches toll free number for TB care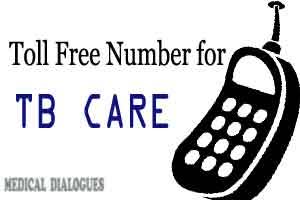 Now TB patients can dial a toll free number (1800-11-6666) to get counseling, and treatment support 24x7.

The helpline number has been launched by the ministry of health and family welfare. This initiative will provide quick support to millions of patients suffering from TB. The call centre will be manned by trained professionals to address patient's queries.

Instant feedback will be given to patients by the trained staff, and the staff will also possess the authority to link or refer patients with symptoms of TB to RNTCP centres.

As reported by TOI, under this initiative, callers can also give a missed call. "Callers will get complete information on diagnosis, treatment and support for the completion of treatment on the national toll free number. The initiative will be started in a phased manner," said Nadda. In the first phase, the service will be extended to Punjab, Haryana, Chandigarh and Delhi.

"It is in continuation of our IT-based initiatives. It will also make the Revised National TB Control Programme (RNTCP) more patient-centric," he said. India accounts for nearly one-fifth of the global tuberculosis incidence. The RNTCP, based on the internationally recommended Directly Observed Treatment Short-course (DOTS) strategy, was launched in 1997 to control the spread of tuberculosis and cut down on mortality.