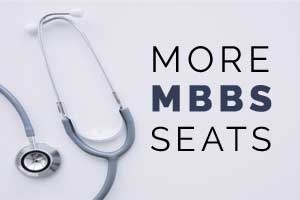 New Delhi: The Ministry of Health and Family Welfare has released notices announcing its decision to issue letter of permission for the renewal of 4252 MBBS seats in 58 different medical colleges. The notices specify renewal or permission for admission with increased intake of MBBS batch for 2018-19 at the respective medical colleges
The permission is valid for one year and for admitting only one batch of MBBS students against increased intake during the academic session 2018-19. The next batch of students in MBBS course against increased intake will be admitted in the college only after permission of Central Government for renewal/recognition.
With the notices the Ministry has clarified that all the Government Medical Colleges (except those located in J&K State) shall contribute 15% of MBBS seats for which the renewal permission is granted for all India quota.
Moreover, Admissions made in violation of the above conditions will be treated as irregular and action will be initiated under IMC Act & Regulations made thereunder.Discrepancies, if any, may be immediately brought to the notice of MCI and the Central/State Government.
Check out the details
S.no
State
Name of college 
Location
Seats( Renewal or Increase Intake) 
1
Pondicherry
Andaman & Nicobar Islands Institute of Medical Sciences
 Port Blair
100
2
Andhra Pradesh
Rangaraya Medical College
Kakinada
150-200 (Increase Intake)
3
Andhra Pradesh
Guntur Medical College
Guntur
150-200

(Increase Intake)

4
Bihar
Shri Krishna Medical College
Muzaffarpur
50-100

(Increase Intake)

5
Bihar
Jawaharlal Nehru Medical College
Bhagalpur
50-100

(Increase Intake)

6
Bihar
Darbhanga Medical College
Darbhanga
90-100

(Increase Intake)

7
Bihar
Patna Medical College
Patna
100-150

(Increase Intake)

8
Chhattisgarh
Government Medical College, Rajnandgaon
Rajnandgaon
100
9
Chhattisgarh
Government Medical College, Ambikapur
Ambikapur
100
10
Chhattisgarh
Shri Lakhi Ram Agrawal Memorial Government Medical College
Bendrchuwa
50
11
Delhi
Dr. Baba Saheb Ambedkar Medical College & Hospital
Rohini
100
12
Haryana
Shaheed Hasan Khan Mewati Govt. Medical College,
Nalhar
100
13
Haryana
Kalpana Chawla Govt. Medical College
Karnal
100
14
Karnataka
Vijayanagar Institute of Medical Sciences,
Ballary
100-150

(Increase Intake)

15
Karnataka
Belagavi Institute of Medical Sciences
Belgaum
100-150

(Increase Intake)

16
Karnataka
Karnataka Institute of Medical Sciences,
 Hubli
150-200

(Increase Intake)

17
Karnataka
Hassan Institute of Medical Sciences,
Hassan
100-150

(Increase Intake)

18
Karnataka
Raichur Institute of Medical Sciences,
Raichur
100-150

(Increase Intake)

19
Karnataka
Kodagu Institute of Medical Sciences,
Madikeri
150
20
Karnataka
Chamarajanagar Institute of Medical Sciences,
Yadapura
150
21
 Karnataka
Gadag Institute of Medical Sciences
Malasamudra
150
22
Karnataka
Karwar Institute of Medical Sciences
Karwar
150
23
Karnataka
Gulbarga Institute of Medical Sciences
Kalaburagi
150
24
Karnataka
Shimoga Institute of Medical Sciences
Shimoga
100-150

(Increase Intake)

25
Karnataka
Bidar Institute of Medical Sciences,
Bidar
100-150

(Increase Intake)

26
Karnataka
Mandya Institute of Medical Sciences
Mandya
100-150

(Increase Intake)

27
Kerala
Government Medical College
Malapurm
100
28
Madhya Pradesh
Gaira Raja Medical College
Gwalior
140-150

(Increase Intake)

29
Madhya Pradesh
MGM Medical College
indore
140-150

(Increase Intake)

30
Madhya Pradesh
Shyam Shah Medical College
Rewa
60-100

(Increase Intake)

31
Madhya Pradesh
Gandhi Medical College
Bhopal
140-150

(Increase Intake)

32
Madhya Pradesh
NSCB Medical College
jabalpur
140-150

(Increase Intake)

33
Maharashtra
Indira Gandhi Govt. Medical College
Nagpur
100-150

(Increase Intake)

34
Maharashtra
Govt. Medical College
Gondia
100
35
Maharashtra
Govt. Medical College
Latur
100-150

(Increase Intake)

36
Maharashtra
Rajashree Chhatrapati Shahu Maharaj Govt. Medical College,
Kolhapur
100-150

(Increase Intake)

37
Maharashtra
Govt. Medical College,
Chandrapur
100
38
Maharashtra
Hinduhridayasamrat Balasaheb Thackeray Medical College
Juhu
150
39
Dhule
Shri Bahusaheb Hire Govt Medical College,
Samta Nagar
50-100

(Increase Intake)

40
Maharashtra
Govt. Medical College
Watika
100-150

(Increase Intake)

41
Punjab
Govt. Medical College
Patiala
150-200

(Increase Intake)

42
Amritsar
Govt. Medical College
Majitha Road
150-200

(Increase Intake)

43
Rajasthan
Dr. S.N Medical College & Associated Group of Hospital,
Jodhpur
 150-250

(Increase Intake)

44
Rajasthan
Jawaharlal Nehru Medical College,
Ajmer,
100-150

(Increase Intake)

45
Rajasthan
RNT Medical College
Udaipur
100-150

(Increase Intake)

46
Rajasthan
Ananta Institute of Medical Sciences & Research Centre
Udaipur
150
47
Tamil Nadu
ESIC Medical College,
Chennai
100
48
Tamil Nadu
IRT Medical College,
Perundurai,
60-100

(Increase Intake)

49
Telangana
Govt. Medical College,
Nizamabad
100
50
Telangana
Govt. Medical College
Mahbubnagar
150
51
Uttar Pradesh
Ram Manohar Lohia Institute of Medical Sciences,
Lucknow
150
52
Uttar Pradesh
S.N. Medical College,
Agra
128- 150

(Increase Intake)

53
Uttar Pradesh
BRD Medical College,
Gorakhpur
50-100

(Increase Intake)

54
Uttar Pradesh
Lala Lajpat Rai Memorial Medical College,
Meerut
100-150

(Increase Intake)

55
Dehradun
Doon Medical College
Patel Nagar
150
56
West Bengal
Midnapore Medical College,
Paschim Midnapur
100-150

(Increase Intake)

57
West Bengal
Calcutta National Medical College,
Kolkata
150-200

(Increase Intake)

58
Andhra Pradesh
S V Medical College
Tirupati
150-200

(Increase Intake)
For more details click on the link given below:
https://mohfw.gov.in/newshighlights/ug-2018-19-renewal-permisssion-dated-31052018-58-colleges
5 comment(s) on Health Ministry nod to renewal of 4252 MBBS seats in 58 medical colleges, Details