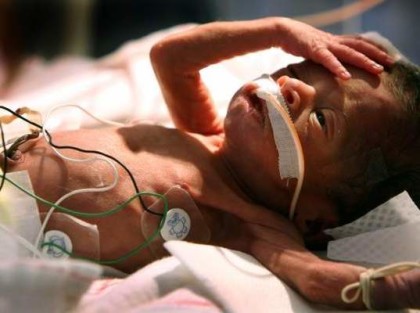 Following the reports regarding the deaths of some children in the tertiary care referral hospital, Sardar Vallabhbhai Post Graduate Institute of Paediatrics, also known as Sishu Bhawan, at Cuttack, Shri J P Nadda, Union Minister for Health & Family Welfare directed for a team of paediatric experts to be sent to Odisha to extend all support and assistance to the state in examining the reasons that may have contributed to the deaths of these children, and to suggest immediate/short term and long term measures that would avert such occurrences in the future through effective management and preparedness.
The Union Health Minister has also directed for the Ministry to send a team of required specialists to assist the state in management of the critical cases of children that require urgent attention. Under the PMSSY, the Health Minister has approved the SCB Medial College for upgradation. This is going to help Sishu Bhawan which is a part of the Medical College.
Dr. Arun K Panda, Addl. Secretary in the Health Ministry led the team of three experts/specialists to the state. The team comprised paediatrics and specialists from Lady Hardinge Medical College, Dr. RML Hospital and the Safdarjung Hospital, New Delhi. The team was assisted by an Assistant Professor from AIIMS, Bhubaneshwar. The team reached Odisha on 29.8.2015 and had a detailed discussion with the Director, Medical Education, Odisha; Dean, Principal, the Medical Superintendent and senior faculty members from the Department of Paediatrics at the Institute on Saturday and Sunday. The members also went through the case sheets of all the children who expired between 21/8- 26/8 and physically went round the wards, ICU wards and the lab facilities.
Based on the observations at the Institute the team has made several suggestions for improvement in the level of competence and preparedness to deal with critical cases. The immediate/short term measures include mobilising more senior residents (post MD) to strengthen the current team at the Institute for strict monitoring of the sick children; round the clock availability of lab facilities of emergency investigations inside the hospital; mobilization/appointment of lab technicians, radiographers and paramedical staff to manage these services round the clock; availability of all life support drugs and higher antibiotics free of cost; stationing more nursing staff specially in emergency areas; converting one area into high dependency area more intense round the clock management; and a regular strict infection surveillance system.
The long term measures recommended by the team of experts include attention to areas such as creation of more medical and paramedical posts; creation of round the clock in house Lab and Investigation facility (CT, MRI); creation of computerized medical record system where the data and investigation report can be assessed at any time and in any area; appointment of counselors and social workers amongst others.
Earlier, a technical team was set up by the state health minister in Odisha to inquire into the infant deaths.
0 comment(s) on Health Ministry sends expert team to Odisha to extend support to state to address children's deaths at Sishu Bhawan