Health services hit in Bihar due to Statewide doctors strike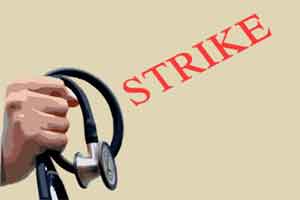 Health services including emergency services were badly hit at various places here due to junior doctors strike in protest against the thrashing of their counterparts at Patna Medical College and Hospital (PMCH) following the death of an engineer last night.
State health minister Tej Pratap Yadav`s assurance to junior doctors that stern action would be taken against culprits and a thorough probe would be conducted into the incident of thrashing by students could not cut much ice as junior doctors continued to boycott their duty.
Unruly mobs of students living in hostels in the vicinity of PMCH chased and thrashed junior doctors badly after a rumour spread that a student died due to their negligence at PMCH.
Patients and their attendants had a harrowing time through out the day as junior doctors, considered as the mainstay of government medical colleges and hospitals abstained from their duty to express their solidarity with their colleagues in the PMCH.
According to a report from Muzaffarpur, a four-month old infant who needed blood transfusion immediately died after he could not be provided medical facility in emergency due to strike by junior doctors working at Sri Krishna Medical College and Hospital in the district town.
The infant was a native of Jamruddin village under Chakra police station in Muzaffarpur district, sources added.Junior doctors stopped working at SKMCH from 1300 hrs, affecting health services in various wards but the situation worsened when they started boycotting their duty at emergency ward from 1600 hrs.
A report from Darbhanga said that medical services were adversely affected due to strike at Darbhanga Medical College and Hospital.
Sources said, patients requiring prompt medical care faced the brunt of the strike as junior doctors boycotted their duty at the emergency ward too.