Health services in Delhi govt hospitals collapsing: BJP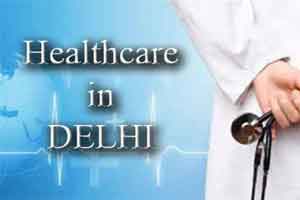 New Delhi:  Health services in Aam Aadmi Party (AAP) government-run hospitals are "collapsing" as there has been no increase in the number of beds, the Delhi BJP alleged.
Citing RTI replies, Delhi BJP president Manoj Tiwari also alleged that the number of beds in hospitals had gone down.
"The health services at government hospitals has totally collapsed. The situation is so grave that the number of beds in the best referral hospitals of Delhi– GB Pant Hospital– have also decreased," Tiwari said.
The sanctioned number of beds at the GB Pant Hospital is 758, but an RTI reply reveals that there are 735 beds. In the Janakpuri Super Speciality Hospital only 100 beds are available against a capacity of 200 beds, he claimed.
"The Lal Bahadur Shastri Hospital said that information was not available," the BJP leader said.
The AAP had promised to increase the number of beds at Delhi government-run hospitals by 30,000, but the situation is that the numbers are going down, he claimed.
Tiwari also attacked the AAP for its choice of Rajya Sabha candidates.
"The controversy arising out of the nomination for Rajya Sabha by the AAP has offended the people of Delhi. They want to know the reality behind this controversy," he said.
The Delhi BJP chief also raised the issue of "death" of homeless people living in open spaces of the city.
"It is estimated that 1 to 2 lakh homeless people live in the city. The Delhi government has not been able to provide relief even to a few thousand of them at its shelter homes," he alleged.