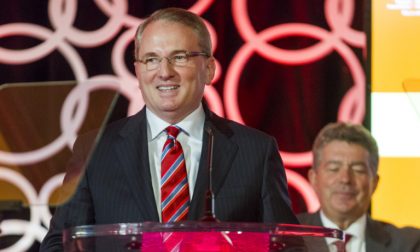 American Heart Association President John Warner suffered , minor heart attack during the organization's flagship scientific conference,  in Southern California.  He was taken to a local hospital, where doctors inserted a stent to open a clogged artery, said the statement issued by the hospital. He is recovering now, adds the statement.
Warner, a practicing cardiologist and the CEO of UT Southwestern University Hospitals in Dallas. Warner accepted the one-year volunteer position as American Heart Association president in July, representing the organization all over the world.
During his speech also he was talking about  how he got into the specialization of Cardiology that captivated him for a variety of reasons, including his family history.
"The first time I heard the phrase 'heart attack' was at age 6, when my great grandfather died suddenly," he said in his speech. "Like many such victims, he had no known heart disease and his death came as a shock to our family. Later, during my residency, both of my grandfathers died of cardiovascular disease. … After my son was born and we were introducing him to his extended family, I realized something very disturbing: There were no old men on either side of my family. None. All the branches of our family tree cut short by cardiovascular disease."
Warner spent the bulk of his medical career as an interventional cardiologist, often performing the procedure he underwent Monday morning.
"John wanted to reinforce that this incident underscores the important message that he left us with in his presidential address yesterday – that much progress has been made, but much remains to be done. Cardiac events can still happen anytime and anywhere," said Nancy Brown, chief executive officer of the AHA in an official statement.
7 comment(s) on American Heart Association president Suffers Heart Attack during AHA Annual Conference