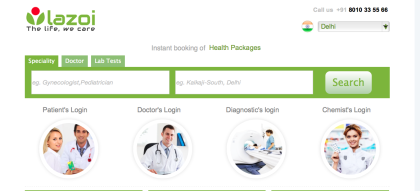 Helpmedoc, a recently introduced healthcare portal has changed its brand address to a new name- Lazoi Lifecare Private Limited (the new name of the company). The changed online address of the company is www.lazoi.com; while the company now supports a new logo with registered new corporate identity.
As said by a company spokesperson, Lazoi is a combination of French (la) and Greek (Zoi) means 'The Life'. With this new identity and brand presence, the company hopes to expand its online portfolio, including better administrative supervision for booking Doctor's appointment, Diagnostic tests, health packages and pharmacy; thus taking it to the next level.
www.lazoi.com is targeted at bringing new features in the existing services and offering more value add to the customers. Lazoi.com is a health portal connecting patients to doctors, diagnostic centres and pharmacists by providing a convenient and hassle free experience with an option to pay online for all available services.
Explaining the new development, Suvro Ghosh, Founder, HelpmeDoc said, "The company has plans to increase the spectrum of its services in future. With this new name and logo, we want to introduce more services and benefits to our customers and the stakeholders we work with. We believe that the new name and identity provides the opportunity to align company's vision to become a global leader in healthcare industry and strive for leadership position in every aspect of our business in future. Lazoi is a combination of French (la) and Greek (Zoi) means 'The Life', as reported by wellnessindia.com
0 comment(s) on Helpmedoc is now Lazoi Lifecare Private Limited