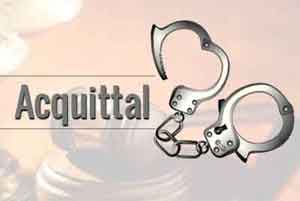 New Delhi: A Delhi court has acquitted a doctor of the charge of raping a woman patient, saying the alleged victim's testimony was inconsistent and could not be relied upon.
Additional Sessions Judge Sanjiv Jain absolved the accused, a doctor running a private clinic in south Delhi, of the charges of rape and criminal intimidation under the IPC.
"Looking into the circumstances and the testimony of the prosecutrix, prosecution case cannot be said to be free from suspicion. There are material contradictions in the testimony of the prosecutrix which go to the root of the case and create doubt on the veracity of the case," the judge said.
The court also observed that though in such cases sole testimony of victim is acceptable but in circumstances which cast doubts in the court's mind, it is not safe to rely on the victim's version.
"I am conscious of the legal proposition that conviction in such like cases can be made on the sole testimony of the prosecutrix even without any medical corroboration and the version of the victim in rape commands great respect and acceptability but if there are some circumstances which cast doubts in the mind of the court… then it is not safe to rely on the uncorroborated version of the victim of rape," the judge said.
According to the prosecution, a complaint was lodged by the woman on July 14, 2016 alleging that she had visited the clinic as she had pain in abdomen.
The accused doctor, however, made her consume a drink and took her to another room where he raped her and threatened to upload her obscene video online, it alleged.
The woman, however, denied the incident in her testimony before the court and claimed that she did not know the contents of the complaint and was made to sign it forcefully by the police and an NGO.
During the trial, the accused had denied the allegations and claimed he was falsely implicated as the woman wanted to extort money from him.
0 comment(s) on High Court Relief to Delhi Doctor- Acquittal from Rape