................................ Advertisement ................................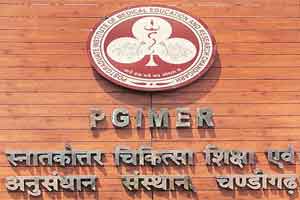 Chandigarh: In a major relief to PGI Chandigarh doctors who were being denied the benefits of the General Provident Fund-cum-old pension scheme, the Punjab and Haryana High Court has upheld an order passed by the Central Administrative Tribunal, calling for the same.
Earlier the CAT had extended the benefit of the General Provident Fund-cum-old pension scheme to PGI doctors working uninterruptedly in different departments before January 1, 2004.
The case concerns doctors who were first appointed on an ad hoc basis against regular sanctioned posts. They earned all regular increments and were extended benefits of housing and medical care on a par with the regular employees. From 2005-2011, the were  appointed on a regular basis maintaining their continuity of work. Their pay, along with past increments, was also protected and carried forward.
However, despite recommendations in their favour by the PGI governing body, headed by the Union Health Minister, the said doctors were denied the benefits of the General Provident Fund-cum-old pension scheme by the Central Government and were included in the new scheme which was a contributory provident fund plan having no element of pension.
Challenging the said government move, doctors went to CAT. The doctors argued that even though regular posts were advertised in 2003 before the new pension scheme came into effect, the delay in regular appointment by the PGI beyond January 1, 2004, came  because the PGI selection committee took time. Hence, the delay attributable to the PGI and of no fault of doctors.
................................ Advertisement ................................
The CAT noted that the doctors appointed assistant professors in the PGI against regular sanctioned posts possessed all qualifications and experience to be appointed on a regular basis and performed the same duties.
Allowing the plea, the CAT ruled that the initial date of appointment would be relevant for purposes of coverage under the old pension scheme. In the case in hand, the old pension scheme was in existence, reports Tribune.
The Union of India challenged the CAT decision in the high court. The bench also upheld the CAT order in favour of PGI Doctors
Meghna A Singhania is the founder and Editor-in-Chief at Medical Dialogues. An Economics graduate from Delhi University and a post graduate from London School of Economics and Political Science, her key research interest lies in health economics, and policy making in health and medical sector in the country.
She can be contacted at meghna@medicaldialogues.in.
Contact no. 011-43720751
................................ Advertisement ................................
0 comment(s) on High Court Relief to PGI Doctors, Upholds their Pension