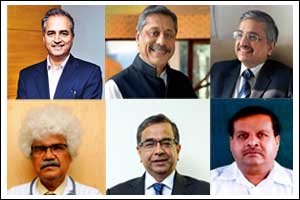 New Delhi: Based on the directions of the 15th Finance Commission, the Commission Secretary, Arvind Mehta announced the constitution of a High Level group Of Heath Sector. The high level group, which contains eminent medical practitioners from across the country, is constituted to provide valuable advice, guidance and support to the commission in analysing the current health regulatory framework and suggest ways and means to optimise the finances allocated to the sector
The Commission will have Dr Randeep Guleria, Director, AIIMS as the convenor and and will consist of the members:
Dr Devi Shetty, Chairman Narayana Heath City, Bangalore
Dr Deelip Govind Mhaisekar, Vice Chanceelor, Maharashtra University of Health Science, Pune;
Dr Naresh Trehan, Medanta City, Gurgaon;
Dr Randeep Guleria, Director, AIIMS, New Delhi (Convenor)
Dr Bhabatosh Biswas, Prof & HOD of Cardio Thoracic Surgery, R.G. Kar Medical College, Kolkatta; and
Dr K Srinath Reddy, President of Public Health Foundation of India.
As per the office memorandum announcing the constitution, the role and the function of the High Level Group of Health Sector will consist of the following:
To evaluate the existing regulatory frame work in the heath sector and examine its strength and weakness for enabling a balanced yet faster expansion of the heath sector keeping in view India's   Demographic Profile;
To suggest ways and means to optimize the use of existing financial resources and to incetivise the State Governments effort on fulfillment of well-defined health parameters, in India; and
To holistically examine best international practices for the health sector and seek to benchmark our framework to these practices for optimizing benefits keeping in mind our local issues.
14 comment(s) on High Level Group on Health Sector Constituted, Check out Details