Himachal medical manpower update: Posts of 319 doctors, 600 resident 2113 health workers lying vacant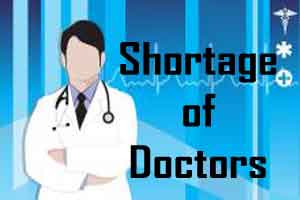 Kangra:- At least 319 posts of the doctors are lying vacant in Himachal Pradesh besides 600 posts of resident doctors or postgraduate students leaving some rural and peripheral hospitals without doctors.

Out of 2392 sanctioned posts of the doctors 319 of these posts were lying vacant for the reasons best known to the government. Besides this nearly 600 posts of the doctors (GDOs) who have joined as Resident doctors or as Postgraduate students in different medical colleges of the state were also lying vacant.

As many as192 GDOs were working as Resident doctors or are doing Post graduation in Tanda medical College alone.

Kangra Chief Medical Officer Dr Gurdharshan Gupta told UNI that in Kangra district out of 387 sanctioned posts of medical officers for 18 Civil Hospitals, 19 CHCs and 87 PHCs, 106 posts were lying vacant.

Out of 445 sanctioned posts of Male Health Workers 304 posts were lying vacant in Kangra district. Out of 461 sanctioned posts of Female Health workers 154 posts were lying vacant, he said.

Health Services Director Dr Ajay Kumar Gupta told UNI that 319 posts of doctors were lying vacant. Nearly 600 posts of doctors who joined different medical colleges as Residents or as PG students were also lying vacant.

Dr Gupta said that to fill up the posts walk in interviews will be held at IGMC Shimla, DRPGMC Tanda and at a private medical college at Kumarhati. He assured that the posts of GDOs will be filled by next month.

Out of 2064 sanctioned posts of Male Multipurpose Health workers in the state 1450 posts were lying vacant leaving people in lurch. Among 2271 sanctioned posts of Female Multipurpose Health workers 663 posts were lying vacant.

There were some Health sub centers without Multipurpose Health workers and some centers were closed for the last few months. Some Multipurpose Health workers were looking after two or three Health Sub Centers.

Sources said that process for filling of the 80 posts of the Male Health workers was initiated but did not reach its logical conclusion till date. Surprisingly despite large number of posts lying vacant the state government appointed only 57 Health workers since 2000.

There were six training schools in the government sector which were not working for the last 19 years.
Dr Ajay Kumar Gupta said that permission for the filling of the posts of MPHW was awaited from the government and as soon the permission was granted State Subordinate Services Selection Board Hamirpur will be approached to fill up these posts.