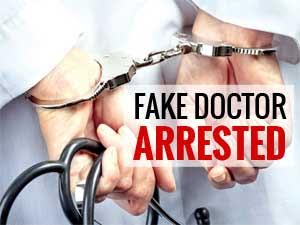 Unnao: The Uttar Pradesh Police on Wednesday arrested the quack doctor accused of infecting at least 40 people with HIV in state's Unnao district.
The 33 were confirmed from among 566 people tested at government-organised HIV screening camps on January 24, 25 and 27, according to SP Choudhary, the chief medical officer (CMO) of Unnao district, which includes Bangarmau. Another 13 persons tested positive during another round of screening in November, last year in the same villages. Five more persons reacted positively to HIV.
"Earlier also, while discussing the history of patients, we had found people getting infected with HIV by a quack".
District officials were finding it hard to make people understand that HIV did not spread by eating together. Blood samples of all these HIV positive cases were sent for CD4 count test. "Besides, the therapy, these patients need a lot of moral support to fight the pain and the stigma attached to the disease", said Dr Chaman Vanwani of ART Centre. "They have been put on antiretroviral therapy", he added.
He said the doctor could be charged with carrying out a negligent act likely to spread infection of diseases, voluntarily causing grievous harm by using unsafe weapons or means, and practising medicine without having registered as a medical practitioner with the state government.
"The issue needs an urgent attention. The number of people contracting the virus due to infected syringes has increased manifolds, especially in rural areas", he added further. It covers patients from Kanpur Dehat, Unna o, Farukhabad, Kannauj, Fathepur and Hamirpur.
0 comment(s) on HIV scare in UP town: people face social ostracism