Homoepathy Council chief gets bail in graft case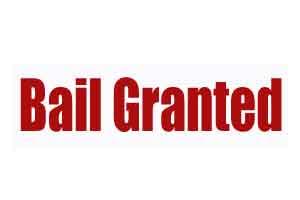 New Delhi: President of Central Council of Homoeopathy (CCH) Ramjee Singh, arrested on October 22 for allegedly demanding a bribe of Rs 20 lakh for giving clearance to a college in Gujarat, was granted bail by a special court here.
Special Judge Parveen Singh also granted the relief to suspected middleman Harishankar Jha, who was arrested along with Singh by the CBI.
The court granted bail to both the accused on a personal bond of Rs two lakh each and one surety of like amount.
The probe agency recently filed a charge sheet against the accused for the alleged offences of criminal misconduct by public servant, receiving illegal certification and criminal conspiracy under the IPC.
The Central Bureau of Investigation had arrested Singh, who also runs GD Memorial Homeopathy Medical College in Patna, and Jha on October 22.
According to CBI, Jha was allegedly receiving the bribe amount, which was a part payment for the total amount agreed upon, from a hawala operator in Karol Bagh area.
A CBI official had said that a private university based in Rajkot (Gujarat) had applied for setting up a new Homoeopathy college.
"It was alleged that...The Vice President of the said University was in a regular contact with both the President of CCH and a private person for getting inspection carried out by such team of inspectors of CCH who would give favourable inspection report," the agency had said.
Others named in FIR include R D Patel, Assistant Director, Homeopathy Department, Gujarat Government; Denish Patel, Vice President of R K University Bhavnagar, which was setting the Homoeopathy college; members of inspection team comprising Jabalpur-based Professor Rahul Shrivastava; Ashok Konar of National Institute of Homeopathy, Kolkata; and Ashwini Arya of J R Kissan Homoeopathy college, Rohtak.
It said R K University wanted to set up the Homeopathy college for which mandatory clearance was needed from CCH, a statutory body for regulating education in the field, which accords it after inspection and deliberation among its various committees.
It was alleged that Denish Patel roped in R D Patel to get this done. R D Patel in turn approached Singh through Jha.
Singh allegedly deputed a team-- comprising Shrivastava,
Konar and Arya-- which conducted the inspection in September, the agency had said.
The president of CCH had demanded illegal gratification and the part amount of which Rs 20 lakh was to be delivered in New Delhi and the same was to be collected from a hawala operator, the FIR alleged.
Jha had obtained an alleged bribe of Rs 20 lakh on behalf of then president of CCH, CBI alleged in the FIR.
"Searches were conducted at Delhi, Rohtak, Gurgaon, Rajkot, Gandhinagar, Jabalpur and Kolkata, including (at) the official and residential premises of accused persons and others which led to recovery of incriminating documents.
"A sum of Rs 21.5 lakh (approx) was also recovered from the residence of private person at Gurgaon," the agency had said.
Read Also :
Arrest of Homeopathy Council chief in bribery case: Details
Read Also:
Homeopathy Council President Caught taking bribe of Rs 20 lakh