................................ Advertisement ................................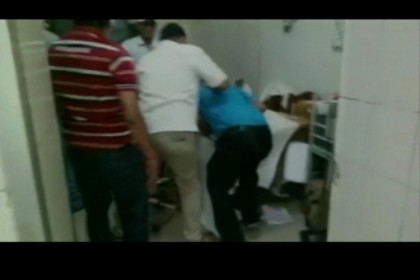 Sitapur (UP): A doctor was brutally assaulted by unidentified men in a hospital in Uttar Pradesh's Sitapur District on Sunday, when a hospital ambulance failed to reach on time. The doctor said that he was beaten black and blue while he was checking up the patients in the emergency ward of the district hospital.
"Several unidentified men brutally started beating me and even abused me. A person even made a video of the entire incident and shared with me on Whatsapp. An FIR has been filed by the police against unknown persons," Dr. Akhilesh Singh said. ( video attached below)
Sitapur Doctor Being assaulted by goons
As reported by Dr R.K Tandon, Resident Editor, Sitapur, Medical Dialgoues, " The patient, resident of Hargoan area ( 25 km away from sitar) had met an accident and was brought to the hospital by  5 people. The attendants demanded Dr Akhilesh for a referral to Lucknow hospital. The doctor replied that he cannot refer a patient with examining the patient, which happens to be the basic protocol. This seemed to make the patients attendants angry, who we suspect were under the influence of the alcohol at that time. The attendants kept demanding for an ambulance to immediately shift the patient to Lucknow. When replied by the doctor, that ambulance arrangement may take some time, they became violent and started beating up the Dr Akhilesh. "
Dr Tandon also informed that all the local doctors are together condemning the actions of violence against the doctor and will speak to higher authorities on the issue of the security of doctors. 4 people have been arrested in this regard, with one still absconding.
................................ Advertisement ................................
Issues of security has been raised by almost all the doctors working in government hospitals throughout the nation. More often than not, it has become a reason for strikes. With this incident also happening, medical professional throughout are questioning why the government is still silent and apathetic to the security concern of medical professionals.
Video Source : HT
Meghna A Singhania is the founder and Editor-in-Chief at Medical Dialogues. An Economics graduate from Delhi University and a post graduate from London School of Economics and Political Science, her key research interest lies in health economics, and policy making in health and medical sector in the country.
She can be contacted at meghna@medicaldialogues.in.
Contact no. 011-43720751
................................ Advertisement ................................
0 comment(s) on Hooligans attack doctor in UP over delay in ambulance