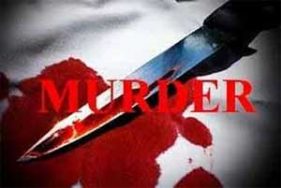 Indore: In a horrific incident, a 45 year old patient, stabbed the wife of a dermatologist to death after he was allegedly dissatisfied with the treatment that was provided by the doctor. The patient, who has a strong criminal history, had been under the care of the dermatologist for the last six months
According to media reports, the patient, identified as Rafiq Rasheed went to the clinic of the skin specialist, Dr Verma located of the city. He was availing treatment from the doctors for the last six months for an itchy skin disease. The patient allegedly was not satisfied with the treatment given to him by the doctor.
On Thursday, the patient went to the clinic where the wife of the doctor,  Lata Verma, 50, who helped her husband at the clinic,  informed him that Dr Verma 'was out of town'. She asked him to come later as the doctor was in Delhi.
................................ Advertisement ................................
Read Also: Unfortunate: PIMS MBBS doctor killed in Vehicle Collision
The patient got infuriated with the information and entered into a heated argument with the doctor's wife during which Rasheed allegedly stabbed her multiple times with a knife.
................................ Advertisement ................................
When their 19-year-old son rushed to the place, he was also critically injured in the scuffle. After the alleged incident, the accused tried to run away but the local people managed to nab him after which he was handed over to the police.
The locals took Lata and her son to a private hospital but unfortunately, she was declared brought dead while the son was told to be critical. Later, the son was reported to be out of danger.
Rasheed was being questioned, the officer said, adding that it was not yet clear what exactly led him to attack Lata Verma, reports the PTI.
Tukoganj city superintendent of police (CSP), BPS Parihar told the HT about the previous criminal records of the accused. He stated, "Rafiq was involved in a murder case in 2015 and spent some time in jail and was out on bail. He apparently always carried a knife with him."
Shagufta Joined Medical Dialogues has been associated as Editor for Education Medical Dialogues since the year 2018.  She is a graduate from Delhi University. She can be contacted at editorial@medicaldialogues.in Contact no. 011-43720751
11 comment(s) on Horrific: Dissatisfied with skin treatment, patient kills wife of Dermatologist