Horrific: Newborn BOBBITISED to Prove Sex Determination Test RIGHT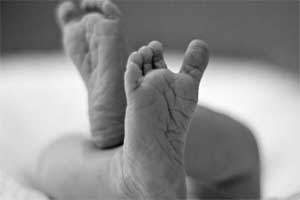 "We have got the post-mortem of the baby done. The allegations against the doctor that he got the genitals severed… are true," Chatra Civil Surgeon
Dr
S P Singh informed.
Ranchi
: In a dreadful incident reported in the area, a "doctor" presumably a quack slashed the genitals of a newborn boy in a bid to prove his sex determination test correct. The infant later died.
According to the media accounts, Gudia Devi, who was into the eighth month of pregnancy, was admitted to Om Nursing home in Jaiprakash Nagar in Chatra district on Tuesday.
The quack identified as one Anuj Kumar conducted ultrasound of the woman and told her husband that she was carrying a "baby girl" in her womb. A doctor at the nursing home, Ajay, further advised caesarian to deliver the child and asked the family to deposit Rs 10,000 for it.
When the woman gave birth to a boy on Tuesday night, the quack unremorsefully bobbitised the baby and claimed that a girl had been born with deformities. The infant died soon after.
IANS
reports that the woman's mother saw everything and created an uproar at the nursing home. Kumar, however, first tried to settle the issue and later managed to escape.
As per the report, the police reached the hospital the next morning further to which they sent the newborn's body for postmortem. The police officials have initiated a probe to catch the quack who is currently absconding.
The police sealed the clinic. "We have registered an FIR… Further probe is on," Chatra SP Akhilesh B Verior informed the Indian Express.
"We have got the post-mortem of the baby done. The allegations against the doctor that he got the genitals severed… are true," Chatra Civil Surgeon Dr S P Singh informed.
When asked if the accused is a quack, Chatra Civil Surgeon Dr S P Singh confirmed while talking to the Indian Express, "The doctor accused in the case did not have any registration or licence under the PNDT Act. He would scout for couples looking to know the gender of the foetus and get the ultrasound done at the clinic of some of his associates."
According to a statement made by the police department, the nursing home was operating illegally. The state government had already issued an order to shut the nursing home.
As per the
TOI
report, two doctors were involved in the incident. The daily said in its report that State Health Secretary Nidhi Khare on Thursday asked the Chatra civil surgeon to book two "doctors" in Itkhori block.
Khare asked the Chatra civil surgeon to book the duo under the Clinical Establishments Act, Pre-Conception and Pre-Natal Diagnostic Techniques (PCPDNT) Act and the Medical Practitioner Act.
A case has been registered under Section 302 of IPC in this connection and started raids to nab the accused.