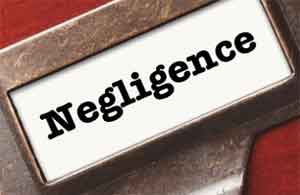 Ahmedabad : Doctors of the Kothari Maternity Centre including the gynaecologist and the anaesthetist have been directed to pay Rs 10.47 lakh for alleged medical negligence in a case that
The case goes back to year 2008 when a female patient conducted doctors at Kothari Medical Centre with the complaint of infertility where Dr Suresh Kothari advised her to undergo laparoscopic surgery for which she was admitted to the hospital. She was operated under general anaesthesia but after the operation did not gain consciousness. With her conditioning worsening, she was transferred to another hospital. Mirror reports that Dr Lalita Kothari took the patient in her car to Apollo hospital, Gandhinagar, for further treatment. However at Apollo hospital, the patient was declared dead.
The body of the patient was sent for post mortem, the report of which stated
the cause of death as cardio-respiratory arrest due to lung and brain oedema associated with rupture of urinary bladder but the reason for its damage is not known.
Alleging negligence on the part of the doctors, the patient husband filed the case claiming negligence by doctor led to his wife's death and on the basis of the post mortem report, a criminal case was registered under Section 304A (causing death by negligence) of IPC. Simultaneously, the patient's husband, a driver also filed a case with the Consumer Dispute Redressal Forum (CDRF), Ahmedabad Rural, against Dr Suresh Kothari, Kothari Maternity Home, Lalita Kothari and anaesthetist Mahesh Chhatwani.
During the arguments, the counsel for the doctors argued that despite best treatment to the patient, she could not be saved as the patient suffered cardiac arrest during surgery. Hence, the doctors could not be held responsible for the patient's death.
The court after going through the submissions ruled that the hospital was negligent and the anaesthetist did not properly monitor the patient's condition . In particular, the court observed that the anaesthetist who was present during the surgery gave general anaesthesia wherein patient remained unconscious. In that condition the injury occurred in urinary bladder resulting in CO2 passing into veins.  Moreover, the court made the observation that appropriate remedial measures were not taken to save the patient's life.
Observing that Injury to urinary bladder was unusual and had direct connection to laparoscopy operation, the forum held that the hospital and anaesthetist are jointly and individually responsible ordering them to pay jointly or severally Rs 10,47,000 with 9% interest from October 2009 till payment and further award of Rs 5,000 as legal cost. It is reported that Dr Lalita Kothari was not held responsible by the court.
Ahmedabad Mirror reports that the doctors are going to the challenge the judgement in the state commission.Dr Chhatwani told Mirror, "I will definitely file an appeal in the State Commission. The death is due to cardiac arrest and not due to negligence." Dr Joshi, the counsel for the doctors told the daily, "The Apollo doctor has not stated that the death is caused by negligence. No expert evidence has been provided by the complainant before the court."
4 comment(s) on Co2 Narcosis: Hospital, Doctors told to pay Rs 10.47 lakh for medical negligence