Hospitals shut, Doctors on Street against Karnataka Private Establishment Bill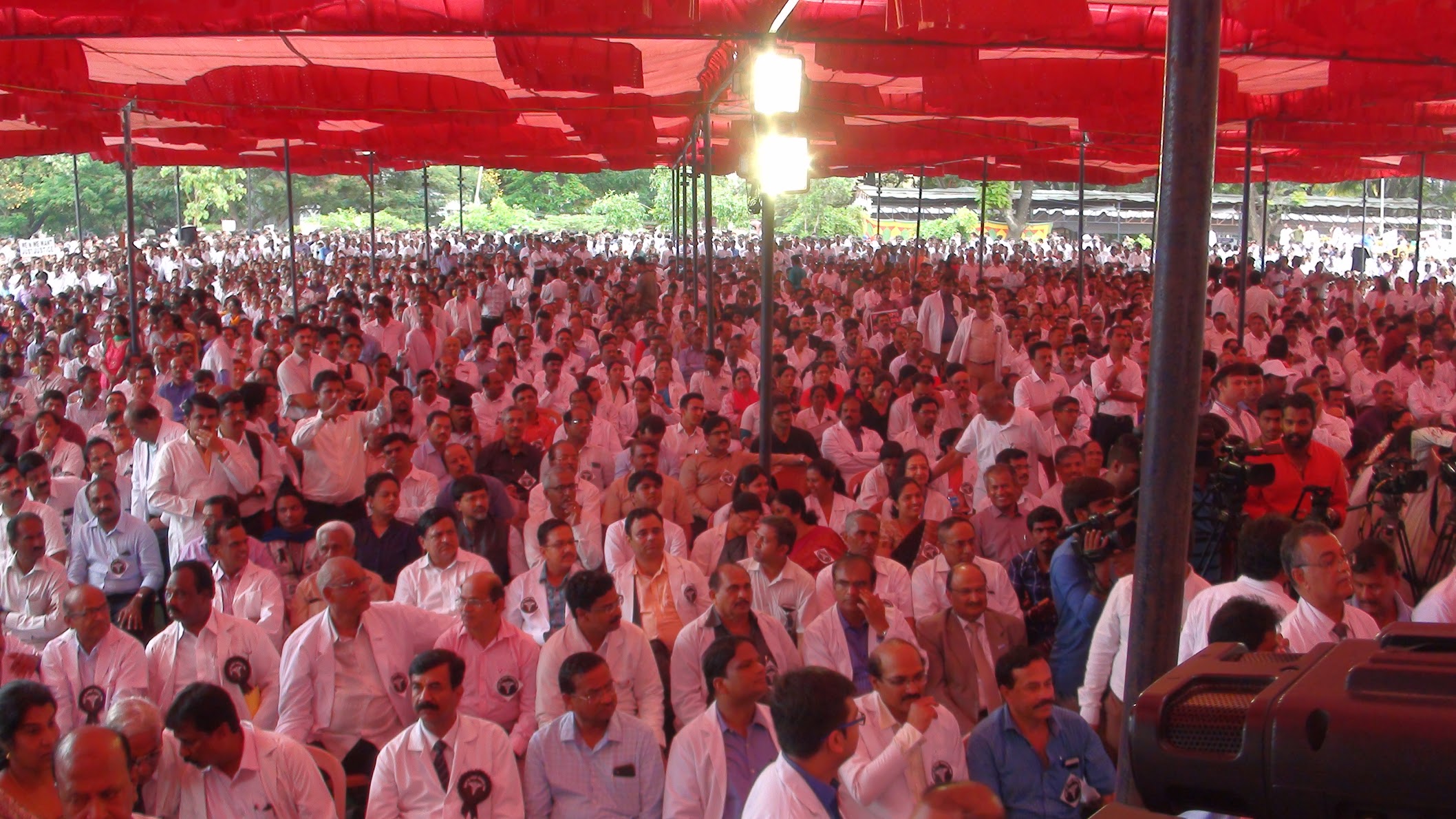 Bengaluru : A large number of doctors and medical professionals from private hospitals staged protests in different pats of the state opposing the bill empowering the state government to fix rates for each class of treatment to be collected by private medical establishments.
The Karnataka Private Medical Establishments (Amendment) Bill, 2017, to further amend the Karnataka Private Medical Establishments Act, 2007 was tabled in the assembly by Health and Family Welfare Minister Ramesh Kumar on June 13.
The bill empowers the state government to fix the rates or charges for each class of treatment to be collected by the private medical establishments and to notify different rates for different class of private medical establishments on the recommendations of the expert committee.
The bill in its statement of objects and reasons states that if the private medical establishments collect more charges than fixed by the state government, penalty of not less than Rs 25,000 which may extend up to Rs 5 lakh can be imposed.
Imprisonment of not less than six months which may be extended up to three years has also been provided for in the bill, in case of violation.
Several prominent personalities like former Lokayukta Santosh Hegde, MLA Dr C N Ashwathnarayan, Dr K Bhujang Shetty of Narayana Nethralaya, Dr Devi Prasad Shetty of Narayana Health and Dr Sudarshan Ballal of Manipal Hospital among others participated in the protest.
Stating that the bill was "not right" in its present form, Ballal called the provision to send Doctors to prison as "draconian".
Shetty said doctors were worried about jail term provision if the patient was not satisfied with the doctor or the treatment.It will in turn spoil patient and doctor relationship.
Suggesting that government should protect the interest of private sector which plays a major role in country's medical sector, he expressed hope about positive response and further consultation on this from the government.
Representatives of private hospitals had yesterday held meetings with Health Minister Ramesh Kumar and Chief Minister Siddaramaiah regarding their concerns.
Private doctors and hospitals have also expressed displeasure over government hospitals being kept out of the ambit of the legislation, despite Justice Vikramajit Sen committee recommendation that there cannot be two sets of rules for private and government hospitals.
The committee was appointed by the government in July 2016 to regulate the healthcare system in Karnataka. It submitted its report in April 2017.
The bill that enhances certain penalties leviable under relevant sections of act, stipulates not to demand any due amount at the time of handing over of the dead body to the concerned person, but to collect later.
It also intends to constitute the district or metropolitan grievances redressal committee for redressal of grievances of patients.
While suggesting the reconstitution of the Registration Authority at district level, it also specifies patient's charter and private medical establishment's charter in the schedule to the act.