Doctors, Hospitals to face strong action for Unwanted Hysterectomies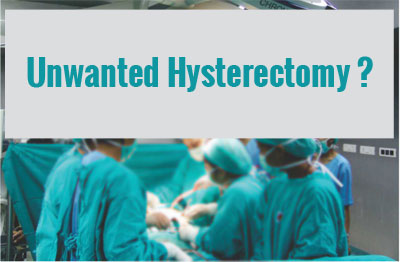 General surgeon Girish Noola and gynaecologist Smitha Noola allegedly conducted nearly 600 hysterectomy surgeries in two years
KALABURAGI, Karnataka: Registrations of certain medical practitioners and hospitals in the district hangs in balance with the district authorities taking strong cognizance of the hysterectomy surgeries being conducted in the area without proper investigations as well as hospital records. So much so that the district authorities have written to the Karnataka Medical Council asking them to take disciplinary action against the erring doctors as well as cancel the registrations of the four hospitals in the city.
A recent report in
Indian Express
states that Deputy Commissioner Ujwalkumar Ghosh had written a letter to the chief of Karnataka Medical Council, H Veerabhadrappa, on January 23 recommending him to take "suitable action" against general surgeon Girish Noola and gynaecologist Smitha Noola who allegedly conducted nearly 600 hysterectomy surgeries in two years, some of them on young patients without proper investigation and without maintaining proper records.
Ghosh also pointed out in the letter that in this regard, an investigation was conducted by a special investigation team that was constituted by the state government under the the chairmanship of Deputy Director of Mental Health, Bengaluru, Dr Ramachandra Bhairy, who had submitted their report to the Commissioner of Health and Family Welfare last year.
As a result of the report, notice was served to Dr Girish Noola Surgical and Maternity Hospital, whose licence was suspended for a period of six months from November 25, 2016
On similar lines, post the meeting of the registration authority of Karnataka Private Medical Establishment, the licences of another three hospitals namely LM Care Hospital situated near Ring Road Kalaburagi, Sudha Memorial Smurthi Maternity, Surgical Nursing Home situated at Dargah Road and Basava Hospital situated at Anand Nagar was also cancelled. Reasoning of the said action included


Hysterectomies were not documented in casesheets of the patients,


No proper receipts were not given to patients,


No separate medical records room was available and


Liquid waste management system was not maintained properly.


Express adds that the government is currently mulling over the proposal of whether compensation should be provided to the victims of these hysterectomies.