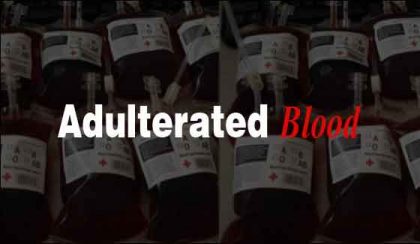 Hyderabad: One medical practitioner, along with two employees of a Venus Blood Bank have been booked by the Special Operations Team(SOT), Rachakonda, after they were found allegedly selling diluted blood to patients.
The case came to light, after the family of an accident victim went to this private blood bank paying Rs 3000 for two units of blood. When they took the blood back to Global Hospital, the doctors there refused to infuse it, stating that the blood has been diluted. The family then filed a complaint with the police, which led to the SOT raiding the blood bank
During the raid  Rachakonda's Special Operations Team police conducted checks and arrested a doctor, blood bank manager and a lab technician, who confessed that he diluted the blood. The owner has been identified has Dr Chakravarthi, who is MD in anaesthesia , manager as Sravan and technician as one Kumar. Five packets of white blood cells and seven bottles of NS Sterile were seized from the blood bank and sent to forensic department . The cuplrits have been booked under 420 (cheating), 308 (attempt to commit culpable homicide if such act causes hurt to any person), 272 (adulteration of food or drink intended for sale), 273 (sale of noxious food or drink) of IPC.
The blood bank is also being investigated for selling broken (Haemolysed) RBC, a fresh report in New Indian Express states.
Why Adulteration of Blood is dangerous
Explaining the adulteration and its harmful effects on the patient, Dr.K.K.Kohli ,Member Delhi State Blood Transfusion Council said "Normally Blood is collected in blood bags which is a  closed system .If  someone adds normal saline to the blood from outside ,there are chances of contamination and spread of  microbial diseases  to the patient .In addition to this transfusion of such diluted blood will not increase haemoglobin of patient to the expected level."
" Moreover there are chances of haemolysis of RBCs if saline is added to the blood bag. Haemolysis of blood can also occur due to improper storage at inappropriate temperatures that is, extreme cold or hot temperatures ,  improper handling storing beyond expiry date. When haemolysed RBCs are transfused, a patient may develop minor reactions ranging from fevers, chills, Tachycardia to serious life threatening reactions including anaphylactic reactions, hemoglobinemia and hemoglobinuria ,renal impairment and cardiac arrhythmia," he added
3 comment(s) on Hyderabad: Doctor arrested for selling adulterated blood to patients