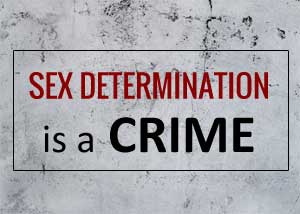 Hyderabad: Two doctors were arrested on charges of conducting illegal prenatal sex determination examinations and charging Rs.7,500 for the same, at Uppal here recently
The arrests came in the wake of a decoy operation conducted by the Uppal Police and the Rachakonda SHE Team, following information that the illegal sex determination tests were being conducted in Sri Krishna Multi Specialty Hospital, Uppal.
The accused identified as Dr Sigireddy Umamaheswari (Gynaecology), and Dr A Chandrasekhar (General Surgeon), both hailing from Vishakhapatnam, were operating the hospital from the year 2000 and conducting prenatal sex determination test.
Telangana Today reports that, following the tipoff, Uppal Sub Inspector A.Krishnaiah, along with woman constables from the SHE Team and Dr. Manda Pallavi, duty medical officer, Uppal PHC, Uppal had gone to the hospital. One of the woman constables, who was eight months pregnant, was sent as a decoy and on her request, Dr. Umameshwari and her husband Dr. Chandrashekar, conducted scanning for sex determination after taking Rs.7,500 and issued a report to her disclosing the gender of the baby.
The team soon seized the marked notes from the two doctors, and also seized other equipments at the center. The doctors were soon produced before the court and remanded in judicial custody.
According to the police the two doctors had been involved in sex determination for more than a year
1 comment(s) on Hyderabad: Gynaecologist, General Surgeon arrested after Sex Determination Decoy operation