ICMR calls for Nominations,for ICMR Awards and Prizes 2018, details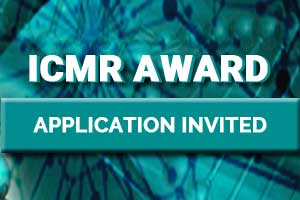 New Delhi: Through a recent advertisement, The Indian Council of Medical Research has invited nominations/applications from Indian scientists for ICMR Awards & Prizes for the year 2018 (list given below) in various fields of biomedical sciences. The last date of receipt of nominations/applications is 31st December 2018.
List of ICMR Awards and Prizes for the year 2018:
1. Amrut Mody Unichem Prize – (Cardiology)
2. Basanti Devi Amir Chand Prize – (Biomedical Sciences)
3. Dr H.B. Dingley Memorial Award – (Paediatrics) – Age below 40 years.
4. ICMR Kshanika Oration Award – (Biomedical Sciences) – for Indian women scientists
5. ICMR Prize for Biomedical Research for scientists belonging to Underprivileged communities - (Biomedical Sciences)
6. ICMR Prize for Biomedical Research conducted underdeveloped areas - Biomedical Sciences
7. ICMR Tilak Venkoba Rao Award – (Reproductive Physiology) - Age below 40 years
8. JALMA Trust Fund Oration Award - (Leprosy and other Mycobacterial diseases)
9. Major General Saheb Singh Sokhey Award - (Communicable Diseases) – Age below 40 years
10.Shakuntala Amir Chand Prize – (Clinical Research) - Age below 40 years (Number of prizes– four)
11.Smt. Kamal Satbir Award – (Non-tuberculosis Chest Diseases, especially Respiratory Allergy and Chronic Obstructive Lung Diseases) - Age below 40 years
12.Dr. Subhas Mukherjee Award - (Assisted Reproductive Technology, Reproductive Biology & Endocrinology and Reproductive Health in General)
13. ICMR-CNMC STS Excellence Award-2018 (for MBBS student who has been awarded ICMR-STS and has published a research paper in an indexed journal as the first author) [For notification and application form for ICMR-CNMC STS Excellence Award- 2018, please click here] Or copy and paste this web link: https://sts.icmr.org.in/cn
Awards/Prizes on alternate years 2018
14.BGRC Silver Jubilee Oration Award- 2018– (Haematology/ Immunohaemotology)
15.Dr. C. G. S. Iyer Oration Award- 2018 - (Leprosy) - Age below 40 years
16.Dr. Dharamvir Datta Memorial Oration Award- 2018 – (Liver Diseases in India) - Age below 40 years
17.Drs. Kunti & Om Prakash Oration Award- 2018 – (Clinical Research)
18.Dr. M. K. Seshadri Prize- 2018 – (Community Medicine)
19.Dr. P. N. Raju Oration Award- 2018 – Public Health (Environment) – Preferably a medical person
20.Dr. T. Ramachandra Rao Award- 2018 – (Medical Entomology) - Age below 40 years
21.Dr. Vidya Sagar Award- 2018 – (Mental Health)
22.Dr. V. N. Patwardhan Prize- 2018 – (fundamental, clinical or field studies in Nutritional Sciences) - Age below 40 years
23.Dr. Y. S. Narayana Rao Oration Award- 2018– (Microbiology)
Click on the following link to get the instructions to apply
https://icmr.nic.in/sites/default/files/award_docs/awards2011and 2012.pdf
Application format for ICMR Awards & Prizes- 2018 attached below.-
https://icmr.nic.in/sites/default/files/award_docs/Application_form_ICMR_Awards.pdf
Correspondence address: The Director General, Kind Attention: Dr. N. C. Jain,
Scientist-G & Head, Division of Human Resource Planning and Development (HRD),
Indian Council of Medical Research, V. Ramalingaswami Bhawan, Ansari Nagar, Post
Box No. – 4911, New Delhi-110029
Telephone: 011-26589258
Email: drencejain@gmail.com
For more details click on the link given below:
https://icmr.nic.in/sites/default/files/whats_new/Advt_format.pdf