IGIMS, Patna faces controversy for asking Doctors their Virginity Status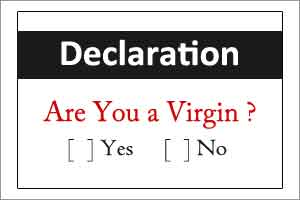 Patna: Recently Patna's Indira Gandhi Institute of Medical Sciences, IGIMS, has fallen in the news for all the wrong reasons with its bizarre declaration form that it takes from its employees as well as new recruits of doctors and nurses going viral. In the declaration form, the institute can be seen asking its employees weird questions including declaring their virginity and number of wives they have.
Finding it absurd?? Just read the components of the Declaration below;
Doctors of the institute, on the condition of anonymity, did agree that it is an absurd form, causing them a lot of embarrassment, when they take the same for verification from their seniors. With the photo of the form going viral, the institute is facing severe criticism from the media and the medical professionals alike for its contentious form. What is even more shocking is the revelation that  said questions in the form have been in practice ever since the institute was established in 1984.
Following AIIMS Guidelines- Cannot Change Form, says IGIMS Medical Superintedent
Following the furore over Patna's Indira Gandhi Institute of Medical Sciences (IGIMS) marital status declaration form, asking if the person is a "bachelor/widower/virgin", college medical superintendent Manish Mandal clarified the same saying the term 'virgin' does not have anything to do with virginity but to marital status. Speaking to ANI, Mandal said IGIMS follows the rules and regulations of AIIMS (All India Institutes of Medical Sciences), which follows the Central Services' (CCS) rules.
"IGIMS follows the rules and regulations of AIIMS which follows the Central Services' rules. The format has imbibed the terms married, widower and virgin. The term 'virgin' doesn't relate to the aspect of virginity but to unmarried," Mandal added. However, in the form 'married' status was not mentioned.
Mandal further said, "If an employee joins the government services and passes away then who would be his/ her claimant?
The literal meaning of virgin is a bachelor." These rules are made by the government only and they have the authority to change it. This rule is not formed by IGIMS or the state but the constitution." "If they change it, we will also change," he added.