Illegal For Doctors to go on strike : High Court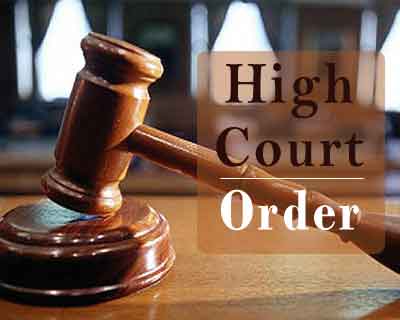 Lucknow : Coming down hard on the doctors under the King George Medical University (KGMU) who had gone on strike to oppose new changes in the PG admissions in the state, the Lucknow Bench of the Allahabad High Court has asked the authorities to penalize the striking doctors for causing undue harassment to patients.
The doctors have been directed to Rs 25 lakhs compensation each to the families of all those who died during the duration of the strike, allegedly due to doctors absence/negligence. In this regard,  the court has directed the state government to form a high level committee to probe the matter within two months, and if found that the deaths have resulted due to the strike, Rs 25 lakh each will be given to the families of the deceased as compensation and the same shall be deducted from the salaries/stipend/allowances of the striking doctors.
The court with the order, seemed to have taken a very strong view of doctors going on strike
The paramount fundamental duty of a doctor is to administer treatment to an ailing person and make all endeavour to save his/her life and get him/ her well. If a doctor refuses to attend a patient, prima facie, it is a serious professional misconduct. We can understand that sometimes there may be just and valid causes which may not be acceptable in general to all or some of the doctors, and they may have a right to take steps for redressal of their grievance but those steps cannot include denial or refusal on the part of a doctor to attend his medical duties or treatment of patients. Whatever terminology may be used, whether strike or protest or abstention from duty or anything else but the fact remains that a doctor is bound by his medical oath and also principle of his profession that he or she must attend a patient whenever required and make best possible efforts for his/her medical treatment.
The court is further to have imply that the doctors in public funded institutions have no legal or otherwise right to go on strike.
Doctors in State Medical Colleges, Government Hospitals and similar other institutions funded by State from public exchequer have no legal or other right to deny to discharge their duties as doctor i.e. administration of medical treatment etc. to the patients. Any such action on their part would be patently illegal and would justify a serious action against them as permissible in law which would include denial of salary or allowance or honorarium etc. as the case may be. Further such activities of abstention, protest, strike etc. amounts to a serious misconduct justifying major penalty and also criminal and tortuous liability if any patient suffer on account of such action of such a doctor.
Passing an order in response to a PIL against the strike, the court was also found directing the state to come up with stricter policies ( linking strikes to appraisals) to deter doctors from going on strike in future stating that doctors in public funded institutions have no legal right to strike .
The court has hence directed the following:-


 State Government shall constitute a High Powered Committee headed by a Judicial Officer not below the rank of Additional Legal Remembrancer from Legal Remembrancer Department, to conduct an inquiry and submit its report positively within two months of its constitution finding out whether any patient in State Medical Colleges/ Hospitals have died since 30th May, 2016 till today i.e. 2nd June, 2016 on account of protest/ abstention from duty/ strike etc. of doctors working therein. The aforesaid committee shall be constituted within a week from today. If any death has occurred Government shall provide compensation to legal heirs of victims, by paying a sum of Rs. 25,00,000/-(Twenty Five Lacs).


The amount of compensation, paid above, shall be recovered from the salaries/allowances etc., as the case may be, of doctors going on protest/abstention from duty/ strike etc.


The Principals of State Medical Colleges, as well as Vice Chancellor, King Gorge Medical University, Lucknow shall identify doctors who have gone on strike protest/abstention from duty etc. and they shall be administered a serious recordable warning besides denial of salary/ allowances/ honorarium, as the case may be, and their period of training etc., shall be extended by the aforesaid period of non-working.


In future, if any doctor of State Medical Colleges or Government hospitals or Government Medical Services, whatever name or title it is called, proceed to observe strike/protest/ agitation/abstention from duty etc., he/she shall immediately be identified and a permanent appraisal record of such doctors shall be created by placing on record his/ her such conduct and admonition thereto. If, such conduct has also resulted in any mortality the same shall also be noted therein. The said record of doctor shall also be placed on a website constituted for the purpose, for knowledge of people at large. It shall also be communicated to Medical Council of India for considering cancellation/ revocation or suspension of license to practice.


Besides above, criminal and tortious action by appropriate authority/victim would/may be open to be taken against such erring doctors.


Government shall also take disciplinary action by treating the aforesaid conduct as serious misconduct justifying major penalty.


This policy decision and guideline shall be formulated and communicated to all the doctors at the time of entering the service and those who are already in service shall be communicated within three months from today.


A report of compliance of this order shall be submitted to the court under personal affidavit of Principal Secretary, Medical Health and Family Welfare as well as Secretary, Medical Education, by 10th September, 2016.



Following is the full order.