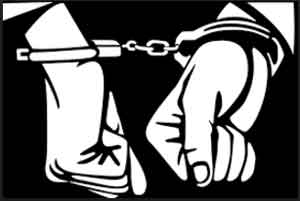 Mumbai: A 41-year-old quack has been now arrested by the local police after it was discovered that he presumed the identity of a qualified medical practitioner and was practising using his name and duping patients for the past 3 years
He was arrested by local police after an inspection conducted by the Municipal Corporation.
The man, identified as 41-year-old Abdul Aziz, a resident of Bandra (West) was operating a clinic in Malwani under the name of Jogeshwari-based doctor Dr Shaikh Parvez Abdul Aziz. The clinic was based at Khan Compound on Joseph Patel Road named Aziz Polyclinic.
................................ Advertisement ................................
The deception came into notice after an inspection that was conducted by the Brihanmumbai Municipal Corporation (BMC). The complaint in this regard was filed in Malwani police station by an Assistant Medical Officer, Amol Chauhan.
Read also: Fake MBBS Certificate, Medical Council Registration: How a nurse fooled GVK EMRI
................................ Advertisement ................................
An investigation police officer told the Indian Express that it was the duty of the authorities to check if quacks were operating in the area.
He stated, "Chauhan said he (accused) has been impersonating another doctor from Jogeshwari as they have similar names."
The police informed that the Medical Officer had cross-checked the medical registration test and found that the number was in the name of Dr Shaikh Parvez Abdul Aziz, resident of Vaishali Nagar in Jogeshwari (West).
A police officer informed the daily, "Chauhan said Aziz had even installed a display board outside his clinic in which he has claimed that he holds a bachelor's degree in medicine and surgery. He claimed to have cleared the MBBS course in 2004 and displayed a registered number from the Maharashtra Medical Council."
The police further informed that the man had been duping slum dwellers in the area for the past two years. The police is trying to identify the vendors who supplied medicine to Aziz's clinic.
Read Also: Faking Everyday as doctor, 26-year old behind the bars
Author Details
Shagufta Joined Medical Dialogues has been associated as Editor for Education Medical Dialogues since the year 2018.  She is a graduate from Delhi University. She can be contacted at editorial@medicaldialogues.in Contact no. 011-43720751
................................ Advertisement ................................
0 comment(s) on Impersonation: Picking up a Same Name Doctor's Credentials, Quack found practicing for two years