Imphal: Doctors call it a strike at RIMS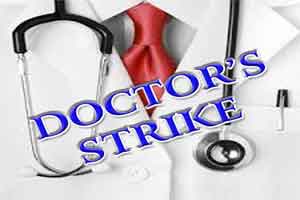 Hundreds of patients from different parts of Manipur as well as those from neighbouring north eastern states were denied treatment at the Regional Institute of Medical Sciences (RIMS) here after doctors went on a two-day closure of the Out Patients Department on Friday.
The Teachers and Medical Officers' Association (TAMOA) of RIMS took the step as the authorities refused to revoke the suspension order of gynaecologist L. Trinity. The organisation has threatened to resort to further agitation if the order is not revoked.
A young woman, T. Kheroda, died due to intense bleeding on July 6 shortly after giving birth to a baby in RIMS. Family members and activists said she died as a result of dereliction of duty by the attending doctors.
The family of the deceased woman has blamed doctors for her death demanding a thorough probe into the incident.
The RIMS authorities held two inconclusive inquiries. Trinity, who was on duty when Kheroda was admitted, was suspended to "facilitate inquiry". Though there have been numerous controversial deaths this is the first time that a doctor has been suspended.
Hundreds of patients who were denied treatment told IANS that launching wildcat strikes without proper public information is against medical ethics.
The disappointed patients had to go to expensive private hospitals.
J.N. Institute of Medical Sciences, the other government hospital, is also in a bad shape. On Tuesday, a 13-hour general strike was observed in Manipur to highlight the irregularities in JNIMS.
There have been disturbing reports in RIMS as the Union Health Ministry is allegedly not paying proper attention. It has been without a regular director for over two years. Admission to the Dental College on the RIMS campus was barred mainly due to administrative lapses.
An enquiry committee was set up to probe the matter and the committee submitted its preliminary findings to the RIMS Medical Superintendent on July 8 .
Another report submitted on July 11 stated that a comprehensive enquiry would be needed so as to enable the enquiry committee to submit a detailed report on the death of Th Kheroda.