India acting against spread of polio across borders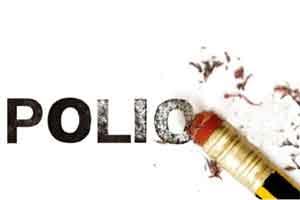 New Delhi:The government is conducting polio vaccination at India's international borders to counteract the possible spread of the virus by foreign travellers, Union Health Minister J.P. Nadda said.
"We are conducting continuous polio vaccination at our international borders. A travel advisory has been issued as per WHO guidelines to vaccinate all travellers who are travelling between India and eight other countries including Pakistan, Afghanistan and Nigeria," Nadda said here at the launch of pulse polio programme for 2016.
An Emergency Preparedness and Response Plan (EPRP) was in place under which Rapid Response Teams (RRTs) had been formed in all states and Union Territories to respond urgently to any importations of poliovirus, said the minister.
The current polio programme will see about 17.4 crore children aged less than five across the country vaccinated against the disease, also known as infantile paralysis.
"Polio-free status for five years is a treasure for all of us," said Nadda, adding that India had also been validated for 'maternal and neonatal tetanus elimination' in May 2015, well before the global target date of December 2015.
That was a monumental achievement in the country's efforts to achieve universal health care and address health inequities, he said.
The government recently introduced injectable Inactivated Polio Vaccine (IPV) to advance the goal of polio-free India.
In the first phase, IPV has been introduced in Assam, Gujarat, Punjab, Bihar, Madhya Pradesh and Uttar Pradesh.