India becoming a destination for Sex Change Operations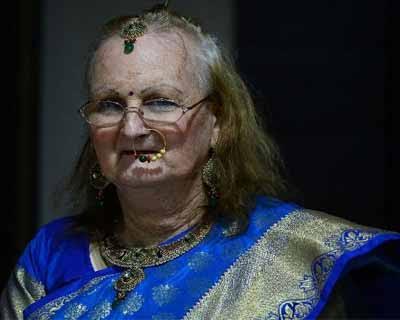 A former US soldier flew to India to have a sex change as part of a growing trend of foreigners traveling out to the country to have operations at budget clinics.Dressed in a bright blue sari and wearing ornate Indian jewellery, Betty Ann Archer, 64, who was born Dale, said she felt trapped in the wrong body.
'I attempted to kill myself twice...I didn't like myself. I didn't like my body at all. I couldn't be myself', she explained.
'I became very ill in 2011 and almost died. While I was recovering I came to the conclusion that I had to transition or die.'Seeking an affordable operation she travelled to India where procedures are cheaper and have no waiting lists.She said: 'This is affordable. This is an option that some transgender people can look at and not have to kill themselves because they can't afford it.'
A growing number of transgenders are choosing to have their operations in India over leading sex-change destination Thailand, despite it traditionally shunning its own transgender community.Betty picked the Olmec Centre clinic, tucked away in a northern Delhi neighbourhood, over Thailand which she felt was 'just a bit too expensive'.
She paid about $6,000, a fifth of the price back home and said India's conservative views on transgenders had not been an issue when deciding to come.Known as 'hijras', India's several million transgenders are often outcasts in society.For up to $22,000 Olmec provide the treatment, as well as accommodation, airport shuttles and post-operative care that includes shopping trips and visits to tourist sights such as as the Taj Mahal.
Olmec founder and plastic surgeon Narendra Kaushik said he was seeing an increasing number of foreigners in his clinic, from countries such as the US, UK and Australia.The number of foreign nationals having such surgeries have jumped from between five and ten to as many as 20 a year, he said.He explained: 'The number of surgeries are increasing day by day.
'This community is very well connected all over the world... If they are satisfied with their procedures in India, they spread the word.'
Another who received a sex change at the clinic was retired British violinist Rosy Mica Kellett who paid £14,000 ($20,000) - less than half the cost in the UK.'It's significantly cheaper here than it is back home and in most countries, even including Thailand,' said the married 50-year-old during a recent follow-up appointment with Kaushik.'Some of the feedback I received for this kind of procedure in Thailand didn't seem to be as super advanced as my surgeon performs,' said Kellett, formerly known as Michael, dressed in a flowing maxi dress.
'I wanted the very best and I got the very best.'To tap into the growing trend, the government is promoting the country's booming medical tourism industry, which included overhauling a special M-visa, now issued faster and valid for one year.
The $3 billion industry is expected to more than double in size by 2020, a report from the Confederation of Indian Industry claimed.
Indian surgeons are also developing their own techniques for transgender operations, including for female-to-male surgeries, which are complex and less widely available, according to industry experts.