................................ Advertisement ................................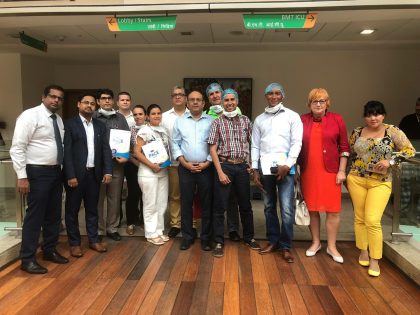 India is emerging as a sought-after destination for advanced, efficient and economically viable healthcare and Indian hospitals are fast gaining a reputation for providing cutting-edge medical solutions. Spearheading this momentum is Fortis Memorial Research Institute (FMRI) Gurugram, which is increasingly regarded as a Mecca for hopeful patients, seeking a fresh lease to life.
In an acknowledgement of this fact, patients from countries as diverse as Mongolia, Myanmar, Uganda and Iraq, to name a few, have sought treatment at the Institute of Blood Disorders.
Led by Dr Rahul Bhargava, Director Haematology, Haemato oncology and Stem Cell Transplant and his highly qualified, multidisciplinary team of Haematologists and Paediatric Haemato Oncologists, the institute offers treatment of and research into complex blood disorders.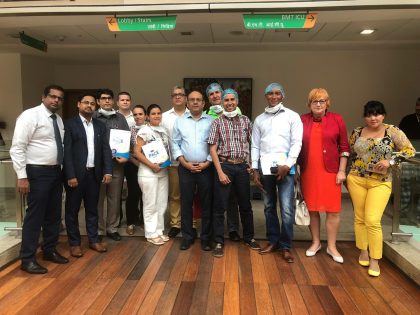 After inking the deal with Kurdistan for performing Stem Cell Transplants on 200 patients and partnering with Iraq in Genomics to understand disease Biology, the latest feather in the much-decorated cap of this highly efficient team is the visit of a large delegation of doctors from Romania and Colombia to experience and understand the various aspects of Indian Health Care.
These doctors visited the State of Art Stem Cell Transplant Centre and the Stem Cell Preservation Laboratory. At the Preceptorship held for the Romanian and Colombian Haematologists, with Dr Bhargava as the facilitator, they also held discussions on the protocols and outcome driven data of Lymphoma and Myeloma on generic drugs and understood how such advanced healthcare can be delivered at such an affordable price.
Speaking to Medical Dialogues team, Dr Rahul Bhargava, Director Haematology, Haemato oncology and Stem Cell Transplant at Fortis Memorial Research Institute, said, " Our country has indeed become an inspiration for the rest of the world in coming up with affordable yet high-quality solutions treating diseases such as lymphoma and myeloma that many consider life-threatening."
" The biggest example of the same is a large number of patients coming from the rest of the world for their cancer treatments to India. We have performed 20 bone marrow transplant in patients from Kurdistan and following this recent visit, also signed an MOU with Romania and Colombia greater collaboration in the field of haematology and technology transfer." he added
Medical Dialogues Bureau consists of a team of passionate medical/scientific writers, led by doctors and healthcare researchers.  Our team efforts to bring you updated and timely news about the important happenings of the medical and healthcare sector. Our editorial team can be reached at editorial@medicaldialogues.in. Check out more about our bureau/team here
................................ Advertisement ................................
0 comment(s) on India emerging as reliable Destination for Bone Marrow Transplants: Dr Rahul Bhargava