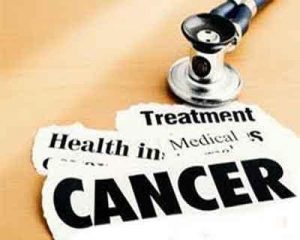 New Delhi:  A health body said India needs to step up the war against cancer which is the second biggest killer after heart disease even as it urged the government to expand current programmes to overcome the growing cancer burden in the country.
On World Cancer Day, the Healthcare Federation of India (NATHEALTH) said there are 7 lakh new cancer cases per year while referring to World Cancer Report 2015 in India and asserted that Non Communicable Disease (NCDs) will cost the country USD 6 trillion by 2030.
"We need to scale up and expand current programmes to control cancer with care offerings that integrate screening, prevention, treatment and follow-up, enabled by partnerships, both private-private and public-private, and across the delivery, insurance, technology and pharmaceutical sectors of the healthcare industry," said Anjan Bose, Secretary General, NATHEALTH.
According to the World Cancer Report, 8.2 million people die each year from cancer, an estimated 13 per cent of all deaths worldwide.
"Today, cancer is the second biggest killer after heart disease in India. Data from the World Cancer Report released in 2015 indicates that in India, there are 7 lakh new cancer cases per year, killing over 3.5 lakh people every year," the body said.
It is feared that that this count is only expected to rise in the next 10-15 years which makes it "crucial" to focus on new and more effective cancer treatments, in addition to the focus on prevention and wellness, it said.
It said new cancer cases are estimated to increase by 70 per cent over the next two decades and the Sustainable Development Goals (SDGs) adopted by the governments for 2030, have a clear target for one-third reduction of death rates due to non-communicable diseases (NCDs).
The theme of this year's World Cancer Day "We can. I can," it said.
"We urgently need to declare war on NCDs. It is estimated that NCDs will cost India USD 6 trillion by 2030. Population- level NCD screening efforts are required among high-risk groups, followed by enrolment of diagnosed populations in holistic care plans, including education and counseling on healthy living," Bose said.
The demographic distribution of different kinds of cancers in our country also makes it important to scale up and expand current programmes with more advanced technologies and therapies so that India can find more effective solutions to overcome the cancer burden, it said.
NATHEALTH strongly recommended higher spending by both public and private sector in cancer research and treatment which can can increase patient access to more effective and affordable treatment in India.
"A significant increase in healthcare spending (USD 3 trillion cumulatively) is needed to bridge the gaps in Indian healthcare. PPPs will play a key role in encouraging private investment in delivery, medical education and research and development," the body said.
0 comment(s) on India needs to step up war against cancer: NATHEALTH